U.S. stock futures higher  in pre-market trading for , November 02.The Nasdaq Futures is trading at 7,089.00  up with +0.16% percent or +11.25 point.The Dow Futures is trading at 25,573.00 up with +0.98% percent or +248.00 point. The S&P 500 Futures is trading at 2,758.25  up with +0.74% percent or +20.75 point.
In overnight trading in the Eastern Hemisphere, Japan's Nikkei 225 is trading at 22,243.66  up with +2.56% percent or 556.01 point. Hong Kong's Hang Seng is trading at 26,373.88 up with +3.77% percent or +957.88 point. China's Shanghai Composite is trading at 2,676.48 up  with +2.70% percent or  +70.24 point. India's BSE Sensex is trading at 35,028.49 with +1.73% percent or +596.52 point at 12:15 PM.The FTSE 100 is trading at 7,172.63 up with  +0.81% percent or +57.97 point. Germany's DAX is trading at 11,633.72 up  with  +1.44% percent or +165.18 point. France's CAC 40 is trading at 5,156.81  up with +1.40%  percent or +71.03  point. The Stoxx Europe 600 is trading at 367.00 up with +1.09% percent or +3.94 point.
Friday's Factors and Events
Wall Street also looked ahead to the monthly jobs report due at 8:30 a.m. ET. Economists expect the headline jobless rate to hold at 3.7 percent, a near 50-year low. Total nonfarm payroll growth is projected at 190,000, after September's disappointing 134,000.
Shares of Apple fell more than 5 percent in the premarket after the company's iPhone shipments missed estimates, offered light guidance and announced major changes to its reporting structure.
Thursday's Activity
For the day The Nasdaq Composite is trading at 7,434.06 up with +1.75% percent or +128.16  point. the Dow is trading at 25,380.74  up with +1.06% percent or  +264.98 point. The S&P 500 is trading at 2,740.37 up with +1.06% percent or +28.63 point.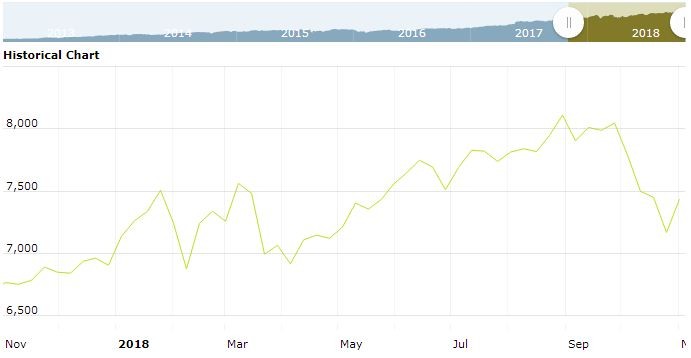 Other leading market index closes included the small-cap Russell 2000 Index closed at 1,544.98 up with +2.22% percent or +33.57 point; the S&P 600 Small-Cap Index closed at 968.88 up with +1.99% percent or +18.92  point; the S&P 400 Mid-Cap Index closed at 1,861.66  up with +2.00% percent or +36.56 point; the S&P 100 Index closed at 1,219.80  up with +0.91% percent or +10.96 point; the Russell 3000 Index closed at 1,617.48  up with +1.24% percent or +19.76 point; the Russell 1000 Index closed at 1,516.04 up with +1.16% percent or +17.39 point;