U.S. stock futures lower  in pre-market trading for , November 06.The Nasdaq Futures is trading at 6,913.50 with a loss of -0.52% percent or -36.00 point.The Dow Futures is trading at 25,382.00  with a loss of -0.23% percent or -59.00 point. The S&P 500 Futures is trading at 2,731.75  with a loss of -0.28% percent or -7.75 point.
In overnight trading in the Eastern Hemisphere, Japan's Nikkei 225 is trading at 22,147.75   up with +1.14% percent or +248.76 point. Hong Kong's Hang Seng is trading at 26,120.96  up with +0.72%percent or +186.57 point. China's Shanghai Composite is trading at 2,659.36  with a loss of -0.23% percent or  -6.07 point. India's BSE Sensex is trading at 35,022.02 up with  +0.20% percent or +71.10 point at 12:15 PM.The FTSE 100 is trading at 7,080.71  with  a loss of -0.33% percent or -23.13 point. Germany's DAX is trading at 11,453.68 with a loss of – 0.36% percent or -41.28 point. France's CAC 40 is trading at 5,081.54  with a loss of -0.39%  percent or -19.85  point. The Stoxx Europe 600 is trading at 362.64 with a loss of -0.24% percent or -0.83 point.
Tuesday's Factors and Events
U.S. stock futures traded mixed on Tuesday as voters are set to head to the polls for a midterm election which could send ripples throughout capital markets.
As of 4:00 a.m. ET, Dow futures were down by 2 points, but indicated a slightly higher open of 17 points. Meanwhile, S&P 500 and Nasdaq futures traded mildly lower.
If Republicans maintains a majority in both chambers, it could lift stocks in the short term as it increases the likelihood of further tax cuts. Meanwhile, a so-called Democratic sweep could pressure stocks as it could result in a reversal of some of the policies passed by Trump administration to boost the economy in the near-term.
Monday's Activity
For the day The Nasdaq Composite is trading at 7,328.85 with a loss of -0.38% percent or -28.14  point. the Dow is trading at 25,461.70  up with +0.76% percent or  +190.87 point. The S&P 500 is trading at 2,738.31 up with +0.56% percent or +15.25 point.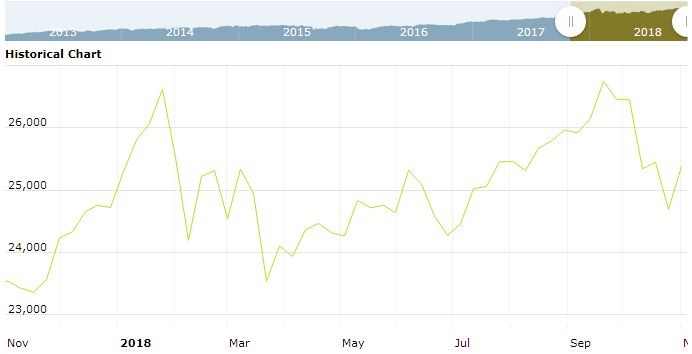 Other leading market index closes included the small-cap Russell 2000 Index closed at 1,547.51 with a loss of -0.03% percent or -0.47 point; the S&P 600 Small-Cap Index closed at 974.74 up with +0.13% percent or +1.31 point; the S&P 400 Mid-Cap Index closed at 1,870.39 up with +0.43% percent or +7.99 point; the S&P 100 Index closed at 1,217.50 up with +0.56% percent or +6.76 point; the Russell 3000 Index closed at 1,615.69 up  with +0.45% percent or +7.23 point; the Russell 1000 Index closed at 1,514.04 up with +0.49% percent or +7.34  point;