U.S. stock futures lower  in pre-market trading for , November 12.The Nasdaq Futures is trading at 7,056.00 up with  +0.41% percent or +28.75 point.The Dow Futures is trading at 25,974.00  with 0.00% percent or +1.00 point.  The S&P 500 Futures is trading at 2,781.75  up with +0.10% percent or +2.75 point.
In overnight trading in the Eastern Hemisphere, Japan's Nikkei 225 is trading at 22,269.88  up with +0.088% percent or +19.63 point. Hong Kong's Hang Seng is trading at 25,593.44   with a loss of -0.033% percent or -8.48 point. China's Shanghai Composite is trading at 2,630.52 up  with +1.22% percent or  +31.65 point. India's BSE Sensex is trading at 35,107.74 with a loss of -0.14% percent or -50.81 point at 12:15 PM.The FTSE 100 is trading at 7,120.67 up with  +0.22% percent or +15.33 point. Germany's DAX is trading at 11,460.78 with a loss of – 0.59% percent or -68.38 point. France's CAC 40 is trading at 5,108.36  up with +0.032%  percent or +1.62  point. The Stoxx Europe 600 is trading at 364.96 with a loss of -0.21% percent or -0.79 point.
Monday's Factors and Events
European equities closed lower on the final trading day of the week as investors reacted to comments from the Federal Reserve and monitored continental political developments.
Basic resources fell 3.41 percent and auto stocks were off by 1.89 percent as global trade concerns weighed further on sentiment. Oil stocks were also among the biggest fallers, down 1.41 percent, as crude prices fell sharply.
Banking stocks were also lower, falling 1.17 percent. One standout stock in the sector, UBS, saw its share price drop 2.65 percent after the U.S. Justice Department filed a suit against the bank for investors' losses linked to mortgage-linked securities prior to the financial crisis
Friday's Activity
For the day The Nasdaq Composite is trading at 7,406.90 with a loss of -1.65% percent or -123.98  point.the Dow is trading at 25,989.30  with a loss of -0.77% percent or  -201.92 point.  The S&P 500 is trading at 2,781.01  with a loss of -0.92% percent or -25.82 point.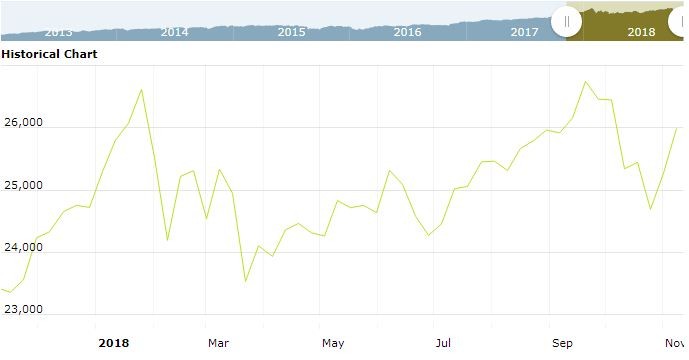 Other leading market index closes included the small-cap Russell 2000 Index closed at 1,549.49  with a loss of -1.82% percent or -28.72 point; the S&P 600 Small-Cap Index closed at 972.65  with a loss of -1.71% percent or -16.88  point; the S&P 400 Mid-Cap Index closed at 1,882.54 with a loss of -1.03% percent or -19.61 point; the S&P 100 Index closed at 1,237.35   with a loss of  -0.94% percent or -11.73 point; the Russell 3000 Index closed at 1,637.23   with a loss of -1.01% percent or -16.64 point; the Russell 1000 Index closed at 1,535.66 with a loss of -0.94% percent or -14.61 point;