U.S. stock futures higher  in pre-market trading for , November 13.The Nasdaq Futures is trading at 6,864.00 up with  +0.41% percent or +28.00 point.The Dow Futures is trading at 25,428.00 up with +0.19% percent or +47.00 point.  The S&P 500 Futures is trading at 2,735.25  up with +0.27% percent or +7.50 point.
In overnight trading in the Eastern Hemisphere, Japan's Nikkei 225 is trading at 21,810.52   with a loss of -2.06% percent or -459.36 point. Hong Kong's Hang Seng is trading at 25,564.58   with a loss of -0.27% percent or -68.60 point. China's Shanghai Composite is trading at 2,650.94 up  with +0.78% percent or  +20.42 point. India's BSE Sensex is trading at 34,878.74 up with +0.19% percent or +65.75 point at 12:15 PM.The FTSE 100 is trading at 7,064.67 up with  +0.16% percent or +11.59 point. Germany's DAX is trading at 11,395.99 up with +0.62% percent or +70.55 point. France's CAC 40 is trading at 5,065.76  up with +0.13%  percent or +6.67 point. The Stoxx Europe 600 is trading at 363.11 up with +0.30%percent or +1.08 point.
Tuesday's Factors and Events
Bloomberg News on Monday reported that President Donald Trump intends to meet with his trade team on Tuesday to discuss a draft report on European auto tariffs. Sentiment turned slightly more optimistic, however, following reports that Treasury Secretary Steven Mnuchin and Chinese Vice Premier Liu He had resumed trade talks.
In other political news, Trump on Monday urged election officials in Florida to end a recount and declare victory for his fellow Republicans in the disputed races in last week's midterm elections. Meanwhile, Democrat Kyrsten Sinema declared victory in the closely contested Arizona race.
oil prices fell by around 1 percent Tuesday, with Brent crude slipping below the $70-per-barrel mark and U.S. West Texas Intermediate crude dropping below the $60 threshold. Trump on Monday said he hoped the Organization of Petroleum Exporting Countries (OPEC) would not cut oil production in order to lift prices
Monday's Activity
For the day The Nasdaq Composite is trading at 7,200.87 with a loss of -2.78% percent or -206.03  point.the Dow is trading at 25,387.18  with a loss of -2.32% percent or  -602.12 point. The S&P 500 is trading at 2,726.22 with a loss of -1.97% percent or -54.79 point.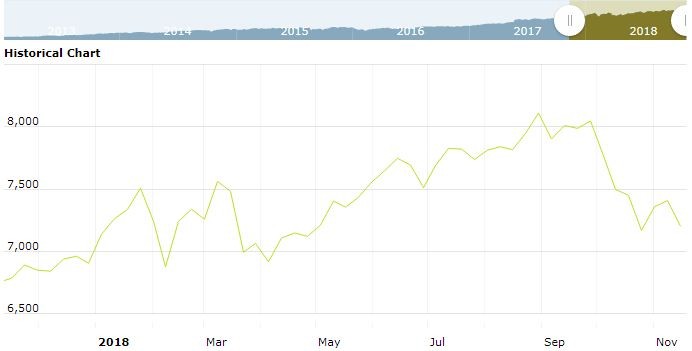 Other leading market index closes included the small-cap Russell 2000 Index closed at 1,518.79  with a loss of -1.98% percent or -30.70 point; the S&P 600 Small-Cap Index closed at 955.08  with a loss of -1.81% percent or -17.57  point; the S&P 400 Mid-Cap Index closed at 1,852.25 with a loss of -1.61% percent or -30.29 point; the S&P 100 Index closed at 1,211.59 with a loss of  -2.08% percent or -25.76 point; the Russell 3000 Index closed at 1,604.97   with a loss of -1.97% percent or -32.26 point; the Russell 1000 Index closed at 1,505.42 with a loss of -1.97% percent or -30.24 point;