U.S. stock futures lower  in pre-market trading for , November 14.The Nasdaq Futures is trading at 6,820.50 with a loss of  -0.47% percent or -32.50 point.The Dow Futures is trading at 25,289.00 with a loss of -0.16% percent or -41.00 point.  The S&P 500 Futures is trading at 2,722.25  with a loss of -0.19% percent or -5.25 point.
In overnight trading in the Eastern Hemisphere, Japan's Nikkei 225 is trading at 21,846.48  up with +0.16% percent or +35.96 point. Hong Kong's Hang Seng is trading at 25,639.53   with a loss of -0.59% percent or -153.34 point. China's Shanghai Composite is trading at 2,629.15  with  a loss of -0.97% percent or  -25.73 point. India's BSE Sensex is trading at 35,262.26 up with +0.34% percent or +117.77 point at 12:15 PM.The FTSE 100 is trading at 7,058.49 up with  +0.067% percent or +4.73 point. Germany's DAX is trading at 11,425.17  with a loss of – 0.41% percent or -47.05 point. France's CAC 40 is trading at 5,086.34  with a loss of -0.30%  percent or -15.50 point. The Stoxx Europe 600 is trading at 362.89 with a loss of -0.43% percent or -1.47 point.
Wednesday's Factors and Events
The Wall Street Journal first reported Treasury Secretary Steven Mnuchin and Chinese Vice Premier Liu He had resumed trade talks. The report comes ahead of a meeting between President Donald Trump and Chinese President Xi Jinping.
"The overhanging issue in this market has been China, so any time you get positive news on that, it's going to be good for stocks," Schwab's Frederick said.
Stocks have been volatile recently as investors grapple with lingering trade fears, worries about rising interest rates and the possibility of a global economic slowdown. The Cboe Volatility index, widely considered the best fear gauge in the market, is up more than 67 percent this quarter.
Tuesday's Activity
For the day The Nasdaq Composite is trading at 7,200.88 up with +0.000088% percent or +0.0063   point. the Dow is trading at 25,286.49  with a loss of -0.40% percent or  -100.69 point. The S&P 500 is trading at 2,722.18 with a loss of -0.15% percent or -4.04 point.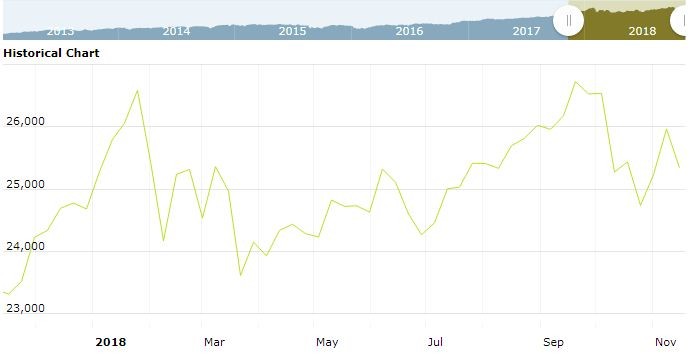 Other leading market index closes included the small-cap Russell 2000 Index closed at 1,514.80  with a loss of -0.26% percent or -3.99 point; the S&P 600 Small-Cap Index closed at 953.34  with a loss of -0.18% percent or -1.74 point; the S&P 400 Mid-Cap Index closed at 1,852.45 up with +0.011% percent or +0.20 point; the S&P 100 Index closed at 1,209.15 with a loss of  -0.20% percent or -2.44 point; the Russell 3000 Index closed at 1,602.90   with a loss of -0.13% percent or -2.07 point; the Russell 1000 Index closed at 1,503.64 with a loss of -0.12% percent or -1.78 point;