U.S. stock futures lower  in pre-market trading for , November 22.The Nasdaq Futures is trading at 6,553.75  with  a loss of -0.34% percent or -22.50 point.The Dow Futures is trading at 24,406.00  with a loss of  -0.24% percent or +59.00 point. The S&P 500 Futures is trading at 2,643.75 with a loss of  -0.20% percent or -5.50 point.
In overnight trading in the Eastern Hemisphere,Japan's Nikkei 225 is trading at 21,646.55 up with +0.65% percent or+139.01 point. Hong Kong's Hang Seng is trading at 26,067.30 up with +0.38% percent or +94.08 point. China's Shanghai Composite is trading at 2,645.43  with a loss of -0.23% percent or  -6.07 point. India's BSE Sensex is trading at 35,179.41  with a loss of -0.053% percent or -18.80 point at 12:15 PM.The FTSE 100 is trading at 6,950.23  with  a loss of -1.42% percent or -100.00 point. Germany's DAX is trading at 1,179.74  with a loss of  -0.57% percent or -64.43 point. France's CAC 40 is trading at 4,948.43 with a loss of -0.54% percent or -27.07  point. The Stoxx Europe 600 is trading at 353.05 with a loss of -0.56% percent or -2.03  point.
Thursday's Factors and Events
European equities also rose on Wednesday. The Stoxx 600 index, which tracks a broad swath of European shares, rose 1.1 percent. France's CAC 40 gained 1 percent while the German Dax climbed 1.6 percent.
U.S. stocks sold off for a second consecutive session on Tuesday, as energy shares dropped with oil prices, while retailers including Target and Kohl tumbled after weaker-than-expected earnings.
Tuesday's declines sent the Dow and S&P 500 to their weakest levels since late October, while the tech-heavy Nasdaq dropped to its lowest level in more than seven months.
Wednesday's Activity
For the day The Nasdaq Composite is trading at 6,972.25  up with +0.92% percent or +63.43  point.the Dow is trading at 24,464.69  with a loss of -0.0039% percent or  -0.95 point. The S&P 500 is trading at 2,649.93 up with +0.30% percent or +8.04 point.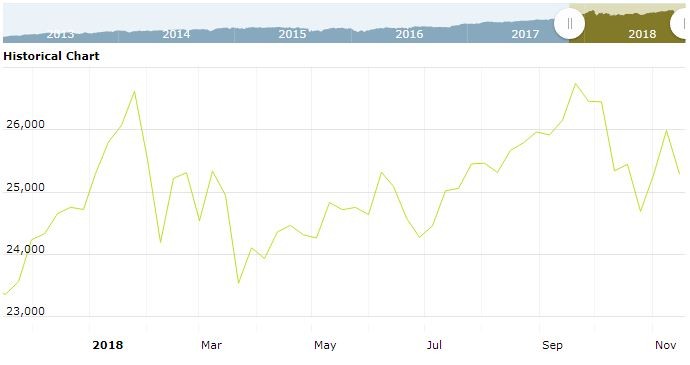 Other leading market index closes included the small-cap Russell 2000 Index closed at 1,488.28  up with  +1.31% percent or +19.27 point; the S&P 600 Small-Cap Index closed at 937.41  with +0.98% percent or +9.08  point; the S&P 400 Mid-Cap Index closed at 1,827.87 up with  +1.10% percent or +19.95 point; the S&P 100 Index closed at 1,171.29 up with +0.12% percent or +1.35 point; the Russell 3000 Index closed at 1,562.68  up with +0.47% percent or +7.26  point; the Russell 1000 Index closed at 1,465.02  up with +0.40% percent or +5.85 point;