U.S. stock futures higher  in pre-market trading for , November 26.The Nasdaq Futures is trading at 6,640.00  up with +1.67% percent or +110.25 point.The Dow Futures is trading at 24,521.00 up with +1.06% percent or +257.00 point.  The S&P 500 Futures is trading at 2,660.75 up with +1.19% percent or +31.25 point.
In overnight trading in the Eastern Hemisphere,Japan's Nikkei 225 is trading at 21,812.00 up with +0.76% percent or+165.45 point. Hong Kong's Hang Seng is trading at 26,339.44 up with +1.59% percent or +411.76 point. China's Shanghai Composite is trading at 2,575.81  with a loss of -0.14% percent or  -3.67 point. India's BSE Sensex is trading at 35,065.93  up with +0.24% percent or +84.91 point at 12:15 PM.The FTSE 100 is trading at 7,024.97  up with +1.04% percent or +72.11 point. Germany's DAX is trading at 11,317.83 up with 1.12% percent or +125.14 point. France's CAC 40 is trading at 5,007.29 up with +1.22% percent or +60.35  point. The Stoxx Europe 600 is trading at 358.05 up with +1.15% percent or +4.13 point.
Monday's Factors and Events
The benchmark 10-year note yield fell to 3.05 percent while the 30-year yield slipped to 3.306 percent. Bond prices move inversely to yields.
U.S. bond markets resume trading after market participants observed the Thanksgiving holiday on Thursday. However, Friday's session will be abbreviated with fixed-income trading set to end at 2 p.m. ET.
Investors also bid up traditional safe havens as oil prices plunged. U.S. crude fell more than 6.5 percent to $50.91 per barrel, reaching its lowest level of 2018. Declining crude prices can signal the global economy is slowing, which would lead investors to cut positions in riskier assets in favor of safer ones.
Friday's Activity
For the day The Nasdaq Composite is trading at 6,938.98   with a loss of -0.48% percent or -33.27  point.the Dow is trading at 24,285.95  with a loss of  -0.73% percent or  -178.74 point. The S&P 500 is trading at 2,632.56  with a loss of -0.66% percent or -17.37 point.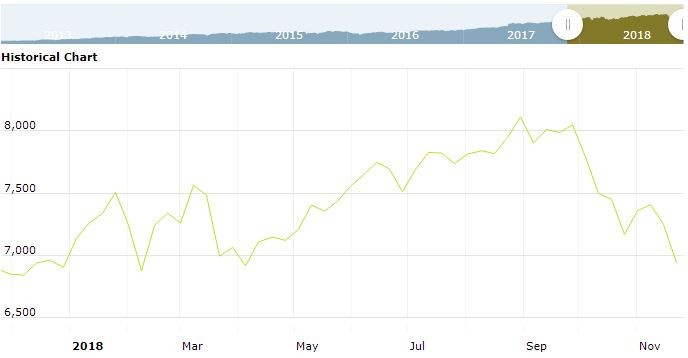 Other leading market index closes included the small-cap Russell 2000 Index closed at 1,488.68  up with  +0.027% percent or +0.40 point; the S&P 600 Small-Cap Index closed at 937.56 up with +0.016% percent or +0.15  point; the S&P 400 Mid-Cap Index closed at 1,824.88  with a loss of  -0.16% percent or -2.99 point; the S&P 100 Index closed at 1,161.40 with a loss of -0.84% percent or -9.89 point; the Russell 3000 Index closed at 1,554.01   with  a loss of -0.55% percent or -8.67  point; the Russell 1000 Index closed at 1,456.23   with a loss of -0.60% percent or -8.79 point;