U.S. stock futures lower  in pre-market trading for , December 14.The Nasdaq Futures is trading at 6,682.00  with a loss of -1.04% percent or -72.75 point.The Dow Futures is trading at 24,352.00 with a loss of -0.89% percent or -219.00 point. The S&P 500 Futures is trading at 2,622.12 with a loss of -0.88% percent or -23.38 point.
In overnight trading in the Eastern Hemisphere, Japan's Nikkei 225 is trading at 21,374.83  with a loss of -2.02% percent or -441.36 point. Hong Kong's Hang Seng is trading at 26,079.10   with a loss of  -1.68% percent or -445.25 point. China's Shanghai Composite is trading at 2,593.74  with a loss of -1.53% percent or  -40.31 point. India's BSE Sensex is trading at  35,963.65 up with +0.099% percent or  +35.64 point at 12:15 PM.The FTSE 100 is trading at 6,818.72 with a loss of -0.85% percent or -58.78 point. Germany's DAX is trading at 10,794.63  with a loss of -1.19% percent or -130.07 point. France's CAC 40 is trading at 4,851.65  with a loss of -0.92% percent or -45.26 point. The Stoxx Europe 600 is trading at 346.06 with a loss of -0.96% percent or -3.34 point.
Friday's Factors and Events
The data underscored the rising risks to China's economy as Beijing works to resolve an ongoing trade war with the U.S.
Analysts at ING said the general market tone on Friday was "risk off," implying that investors' appetite to take risks by buying more stocks has gone down.
"Investors (are) likely to book gains and keep to the sidelines digesting the developments on US-China trade and the ECB decision," the analysts wrote in a note on Friday.
Thursday's Activity
For the day The Nasdaq Composite is trading at 7,070.33  with a loss of -0.39% percent or -27.98 point.the Dow is trading at 24,597.38 up with +0.29% percent or +70.11 point. The S&P 500 is trading at 2,650.54   with a loss of -0.020% percent or -0.53 point.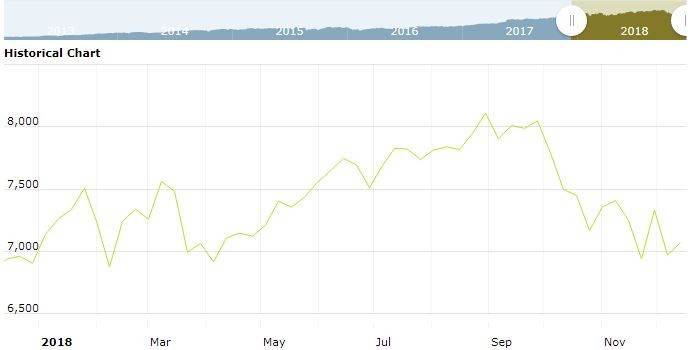 Other leading market index closes included the small-cap Russell 2000 Index closed at 1,432.70  with a loss of -1.55% percent or -22.62  point; the S&P 600 Small-Cap Index closed at 892.11   with a loss of -1.64% percent or -14.87 point; the S&P 400 Mid-Cap Index closed at 1,758.62  with a loss of -1.05% percent or -18.63 point; the S&P 100 Index closed at 1,178.25  up with +0.19% percent or +2.23 point; the Russell 3000 Index closed at 1,556.78  with a loss of -0.21% percent or -3.27 point; the Russell 1000 Index closed at 1,463.35  with a loss of -0.11% percent or 1.56 point;