U.S. stock futures higher  in pre-market trading for , December 17.The Nasdaq Futures is trading at 6,633.12  up with +0.16% percent or +7.25 point.The Dow Futures is trading at 24,138.00 up with +0.04% percent or +10.00 point. The S&P 500 Futures is trading at 2,607.88 up with +0.09% percent or +2.38 point.
In overnight trading in the Eastern Hemisphere, Japan's Nikkei 225 is trading at 21,506.88  up with +0.62% percent or +132.05 point. Hong Kong's Hang Seng is trading at 26,106.98   up with +0.047% percent or +12.19 point. China's Shanghai Composite is trading at 2,597.97  up with +0.16% percent or  +4.23 point. India's BSE Sensex is trading at  36,193.86 up with +0.64% percent or  +230.93 point at 12:15 PM.The FTSE 100 is trading at 6,822.73 with a loss of -0.33% percent or -22.44 point. Germany's DAX is trading at 10,849.07 with a loss of -0.15% percent or -16.70 point. France's CAC 40 is trading at 4,835.79  with a loss of -0.37% percent or -17.90 point. The Stoxx Europe 600 is trading at 345.96 with a loss of -0.36% percent or -1.25  point.
Monday's Factors and Events
The latest economic data offered yet another hint that Beijing's economy may be decelerating amid rising trade risks as President Xi Jinping tries to broker a permanent truce with President Donald Trump. The two nations have slapped tariffs on billions of dollars worth of goods over the past year as disagreements over the handling of intellectual property and a yawning trade deficit pit the world's two largest economies against each other.
Friday's Activity
For the day The Nasdaq Composite is trading at 6,910.66  with a loss of -2.26% percent or -159.67 point.the Dow is trading at 24,100.51 with a loss of -2.02% percent or -496.87 point. The S&P 500 is trading at 2,599.95 with a loss of -1.91% percent or -50.59 point.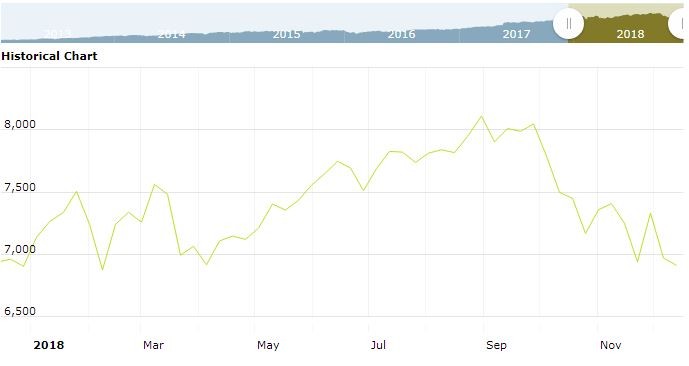 Other leading market index closes included the small-cap Russell 2000 Index closed at 1,410.81  with a loss of -1.53% percent or –21.89  point; the S&P 600 Small-Cap Index closed at 878.11  with a loss of -1.57% percent or -14.00 point; the S&P 400 Mid-Cap Index closed at 1,732.81  with a loss of -1.47% percent or -25.81 point; the S&P 100 Index closed at 1,153.59   with a loss of -2.09% percent or -24.66 point; the Russell 3000 Index closed at 1,528.36  with a loss of -1.83% percent or -28.42 point; the Russell 1000 Index closed at 1,436.31  with a loss of -1.85% percent or -27.04 point;