U.S. stock futures higher  in pre-market trading for , December 19.The Nasdaq Futures is trading at 6,542.25  up with +0.87% percent or +56.25 point.The Dow Futures is trading at 23,819.00 up with +0.89% percent or +210.00 point. The S&P 500 Futures is trading at 2,560.00 up with +0.87% percent or +22.00 point.
In overnight trading in the Eastern Hemisphere, Japan's Nikkei 225 is trading at 20,987.92   with a loss of -0.60% percent or -127.53 point. Hong Kong's Hang Seng is trading at 25,848.39   up with +0.13% percent or +34.14 point. China's Shanghai Composite is trading at 2,550.09  with a loss of -1.03% percent or  -26.56 point. India's BSE Sensex is trading at  36,463.83up with +0.32% percent or  +116.75 point at 12:15 PM.The FTSE 100 is trading at 6,751.30 up with +0.74% percent or +49.71 point. Germany's DAX is trading at 10,785.39 up with +0.41% percent or +44.50 point. France's CAC 40 is trading at 4,769.24  up with +0.32% percent or +15.16 point. The Stoxx Europe 600 is trading at 341.31 up with +0.25% percent or +0.93  point.
Wednesday's Factors and Events
U.S. stock index futures were slightly higher on Wednesday morning, as traders eagerly awaited the Federal Reserve's latest monetary policy decision.
A dramatic fall in the price of oil overnight has added to deflationary pressures worldwide, at a time when trade and economic activity are already cooling.
Complicating matters further for the central bank, President Donald Trumpwarned Tuesday that it must tread carefully in order not to "make yet another mistake," while a Wall Street Journal editorial also called for a pause.
Tuesday's Activity
For the day the Dow is trading at 24,100.51 with a loss of -2.02% percent or -496.87 point. The S&P 500 is trading at 2,599.95 with a loss of -1.91% percent or -50.59 point. The Nasdaq Composite is trading at 6,910.66  with a loss of -2.26% percent or -159.67 point.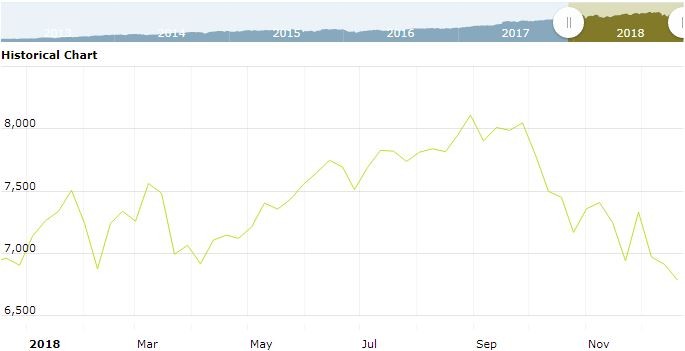 Other leading market index closes included the small-cap Russell 2000 Index closed at 1,410.81  with a loss of -1.53% percent or –21.89  point; the S&P 600 Small-Cap Index closed at 878.11  with a loss of -1.57% percent or -14.00 point; the S&P 400 Mid-Cap Index closed at 1,732.81  with a loss of -1.47% percent or -25.81 point; the S&P 100 Index closed at 1,153.59   with a loss of -2.09% percent or -24.66 point; the Russell 3000 Index closed at 1,528.36  with a loss of -1.83% percent or -28.42 point; the Russell 1000 Index closed at 1,436.31  with a loss of -1.85% percent or -27.04 point;