U.S. stock futures higher  in pre-market trading for , December 26.The Nasdaq Futures is trading at 5,917.62 up with +0.43% percent or +25.62 point.The Dow Futures is trading at 21,791.00 up with +0.42% percent or +91.00 point. The S&P 500 Futures is trading at 2,354.38 up with +0.54% percent or +12.63 point.
In overnight trading in the Eastern Hemisphere, Japan's Nikkei 225 is trading at 19,327.06  up with +0.89% percent or +171.32 point. Hong Kong's Hang Seng is trading at 25,651.38   with a loss of -0.40% percent or -102.04 point. China's Shanghai Composite is trading at 2,504.44  with a loss of -0.015% percent or  -0.38 point. India's BSE Sensex is trading at 35,254.92  with a loss of -0.61% percent or -215.23 point at 12:15 PM.The FTSE 100 is trading at 6,685.99 with  a loss of -0.52% percent or -35.18 point. Germany's DAX is trading at 10,633.82  up with +0.21% percent or +22.72 point. France's CAC 40 is trading at 4,626.39 with a loss of -1.45% percent or -67.99 point. The Stoxx Europe 600 is trading at 335.24  with a loss of  –0.42% percent or -1.43 point.
Wednesday's Factors and Events
Stocks temporarily climbed off their lows after billionaire hedge fund manager David Tepper told CNBC that he's buying some stocks following the market's move lower. CNBC's Scott Wapner says that Tepper told him that "it's still a tough market," so you've "got to be careful about your exposure."
"The key question is whether the market of stellar returns is going to a market of slow or stalling returns," Quincy Krosby, chief market strategist at Prudential Financial, told CNBC.
Tuesday's Activity
For the day The Nasdaq Composite is trading at 6,192.92  with a loss of -5.14% percent or  -335.49 point.the Dow is trading at 21,792.20  with a loss of  -2.91% percent or -653.17 point. The S&P 500 is trading at 2,351.10 with  a loss of -2.71% percent or -65.52 point.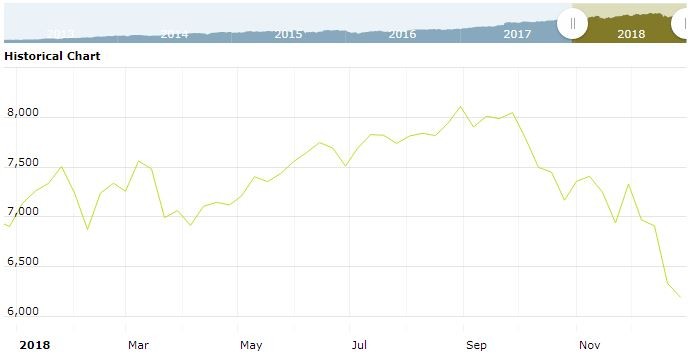 Other leading market index closes included the small-cap Russell 2000 Index closed at 1,266.92  with a loss of -1.95% percent or -25.16  point; the S&P 600 Small-Cap Index closed at 793.86 with a loss of -1.95% percent or -15.75  point; the S&P 400 Mid-Cap Index closed at 1,567.40  with a loss of -2.73% percent or -43.95 point; the S&P 100 Index closed at 1,042.77 with  a loss of -2.66% percent or -28.55 point; the Russell 3000 Index closed at 1,380.60  with a loss of -2.64% percent or -37.45 point; the Russell 1000 Index closed at 1,298.02  with a loss of  -2.69% percent or -35.93 point;