U.S. stock futures higher  in pre-market trading for , December 24.The Nasdaq Futures is trading at 6,103.75 up with +0.74% percent or +44.75 point.The Dow Futures is trading at 22,490.00 up with +0.37% percent or +83.00 point. The S&P 500 Futures is trading at 2,426.00 up with +0.52% percent or +12.50 point.
In overnight trading in the Eastern Hemisphere, Japan's Nikkei 225 is trading at 20,166.19   with a loss of -1.11% percent or -226.39 point. Hong Kong's Hang Seng is trading at 25,651.38   with a loss of -0.40% percent or -102.04 point. China's Shanghai Composite is trading at 2,527.01 up with +0.43% percent or  +10.76 point. India's BSE Sensex is trading at 35,749.81 up with +0.022% percent or +7.74 point at 12:15 PM.The FTSE 100 is trading at 6,689.72 with  a loss of -0.47% percent or -31.45 point. Germany's DAX is trading at 10,633.82  up with +0.21% percent or +22.72 point. France's CAC 40 is trading at 4,639.57 with a loss of -1.17% percent or -54.81 point. The Stoxx Europe 600 is trading at 334.84  with a loss of  -0.54% percent or -1.80 point.
Monday's Factors and Events
Stocks stateside were hit with a steep plunge Friday, with the Dow Jones Industrial Average suffering its worst week since October 2008, the Nasdaq Composite sliding into a bear market and the S&P 500 not far off falling into bear market territory itself. Futures pointed to marginal gains in equities on Monday
Concerns around a potential slowdown in global economic growth appeared to intensify following the Federal Reserve's decision last week to raise interest rates for the fourth time this year. Fed Chairman Jerome Powell signaled at the central bank's latest monetary policy meeting that it would continue to unwind its balance sheet at the current pace. Some traders worry the Fed may be tightening too fast.
Friday's Activity
For the day The Nasdaq Composite is trading at 6,332.99  with a loss of -2.99% percent or  -195.41 point. the Dow is trading at 22,445.37  with a loss of  -1.81% percent or -414.23 point. The S&P 500 is trading at 2,416.62  with  a loss of -2.06% percent or -50.80 point.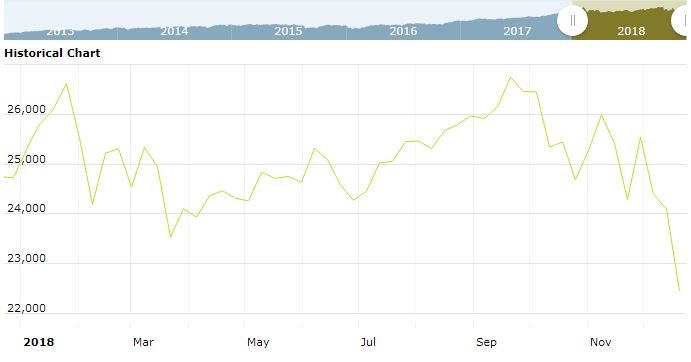 Other leading market index closes included the small-cap Russell 2000 Index closed at 1,292.09  with a loss of -2.56% percent or -33.92  point; the S&P 600 Small-Cap Index closed at 809.61 with a loss of -2.23% percent or -18.49  point; the S&P 400 Mid-Cap Index closed at 1,611.35  with a loss of -2.01% percent or -32.98 point; the S&P 100 Index closed at 1,071.32 with  a loss of -2.28% percent or -25.04 point; the Russell 3000 Index closed at 1,418.06  with a loss of -2.11% percent or -30.51 point; the Russell 1000 Index closed at 1,333.95  with a loss of  -2.07% percent or -28.23 point;