U.S. stock futures higher  in pre-market trading for , December 28.The Nasdaq Futures is trading at 6,351.00  up with +0.43%percent or +31.25 point.The Dow Futures is trading at 23,266.50 up with +0.49% percent or +113.50 point. The S&P 500 Futures is trading at 2,507.62 up with +0.51% percent or +12.62 point.
In overnight trading in the Eastern Hemisphere, Japan's Nikkei 225 is trading at 20,014.77   with a loss of -0.31% percent or -62.85 point. Hong Kong's Hang Seng is trading at 25,492.03  up with +0.052% percent or +13.15 point. China's Shanghai Composite is trading at 2,490.35  up with +0.29% percent or  +7.17 point. India's BSE Sensex is trading at 36,148.97  with up +0.95% percent or +341.69 point at 12:15 PM.The FTSE 100 is trading at 6,703.10 up with +1.80% percent or  -44.63 point. Germany's DAX is trading at 10,555.68  up with +1.68% percent or +174.17 point. France's CAC 40 is trading at 4,674.93 up with +1.66% percent or +8.6876.32 point. The Stoxx Europe 600 is trading at 335.11  up with +1.68% percent or +5.47 point.
Friday's Factors and Events
Reuters reported, citing three sources familiar with the situation, that President Donald Trump is considering an executive order to ban U.S. companies from using equipment built by Chinese firms Huawei and ZTE. This executive order would come at a time when the two largest world economies are trying to strike a permanent trade deal. Earlier this month, China and the U.S. agreed to a 90-day grace period to come up with an agreement.
Thursday's Activity
For the day The Nasdaq Composite is trading at 6,579.49  up with +0.38% percent or +25.14 point. the Dow is trading at 23,138.82  up with +1.14% percent or +260.37 point. The S&P 500 is trading at 2,488.83 up with  +0.86% percent or +21.13 point.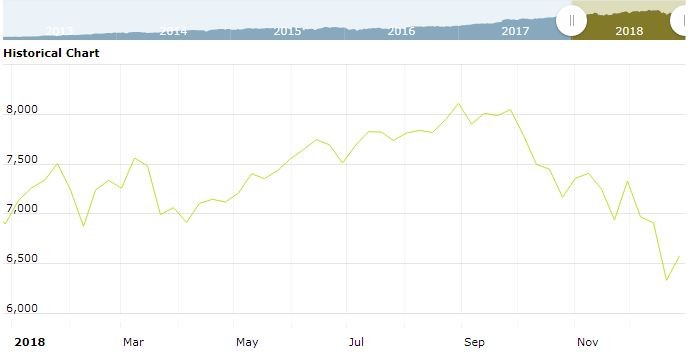 Other leading market index closes included the small-cap Russell 2000 Index closed at 1,331.82  up with +0.15% percent or +2.01 point; the S&P 600 Small-Cap Index closed at 835.37 up with +0.42% percent or +3.49  point; the S&P 400 Mid-Cap Index closed at 1,647.24  up with +0.45% percent or +7.46  point; the S&P 100 Index closed at 1,105.17 up with  +0.75% percent or +8.22 point; the Russell 3000 Index closed at 1,460.48  up with +0.78% percent or +11.32 point; the Russell 1000 Index closed at 1,373.78  up with +0.83% percent or +11.29 point;