U.S. stock futures higher  in pre-market trading for , December 31.The Nasdaq Futures is trading at 6,348.00  up with +0.87%percent or +54.63 point.The Dow Futures is trading at 23,239.00 up with +0.89% percent or +204.00 point. The S&P 500 Futures is trading at 2,505.62 up with +0.79% percent or +19.62 point.
In overnight trading in the Eastern Hemisphere, Japan's Nikkei 225 is trading at 20,014.77   with a loss of -0.31% percent or -62.85 point. Hong Kong's Hang Seng is trading at 25,845.70  up with +1.34% percent or +341.50 point. China's Shanghai Composite is trading at 2,493.90  up with +0.44% percent or  +10.81 point. India's BSE Sensex is trading at 36,073.61 with a loss of -0.0086% percent or -3.11 point at 12:15 PM.The FTSE 100 is trading at 1,372.33 with  a loss of -0.11% percent or -1.45 point. Germany's DAX is trading at 10,558.96  up with +1.71% percent or +177.45 point. France's CAC 40 is trading at 4,729.51 up with +1.09% percent or +50.78 point. The Stoxx Europe 600 is trading at 337.63  up with +0.41% percent or +1.41 point.
Monday's Factors and Events
U.S. stock index futures point to a higher open on Monday on growing optimism surrounding U.S.-China trade talks.
At around 5 a.m. ET, Dow futures implied a rise of more than 200 points at the open. Futures for Nasdaq and S&P also pointed to a higher open.
The market's focus is largely attuned to the progress on the U.S.-China trade standoff after President Donald Trump said he had a "very good call" with Chinese President Xi Jinping on Saturday to discuss trade. The president also claimed that "big progress" was being made on this front. Trump's statements sparked gains in markets worldwide.
Friday's Activity
For the day The Nasdaq Composite is trading at 6,584.52  up with +0.076% percent or +5.03 point.the Dow is trading at 23,062.40 with a loss of -0.33% percent or -76.42 point. The S&P 500 is trading at 2,485.74  with  a loss of -0.12% percent or -3.09 point.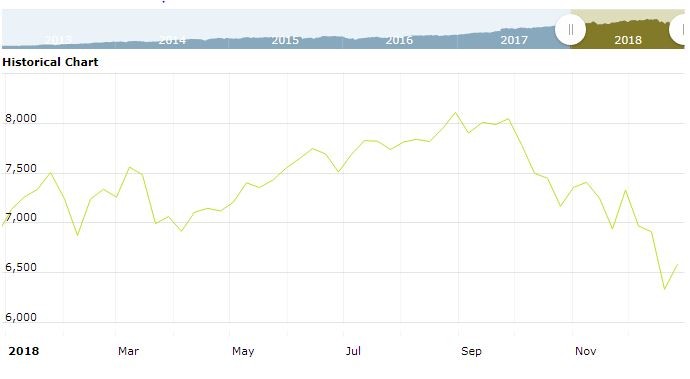 Other leading market index closes included the small-cap Russell 2000 Index closed at 1,337.92  up with +0.46% percent or +6.11 point; the S&P 600 Small-Cap Index closed at 840.21 up with +0.58%percent or +4.84  point; the S&P 400 Mid-Cap Index closed at 1,646.49   with a loss of -0.046% percent or -0.75  point; the S&P 100 Index closed at 1,104.34  with a loss of -0.075% percent or -0.83 point; the Russell 3000 Index closed at 1,459.52   with a loss of -0.066% percent or -0.96 point; the Russell 1000 Index closed at 1,372.33  with a loss of -0.11% percent or 1.45 point;