U.S. stock futures lower  in pre-market trading for , January 03.The Nasdaq Futures is trading at 6,208.00   with a loss of -2.56% percent or -163.00 point.The Dow Futures is trading at 22,990.00 with a loss of  -1.44% percent or -335.00 point. The S&P 500 Futures is trading at 2,472.88  with a loss of -1.52% percent or -38.88 point.Other U.S.
In overnight trading in the Eastern Hemisphere,  Japan's Nikkei 225 is trading at 20,014.77   with a loss of -0.31% percent or -62.85 point. Hong Kong's Hang Seng is trading at 25,066.09  with a loss of -0.26% percent or -64.26 point. China's Shanghai Composite is trading at 2,464.36  with a loss of -0.038% percent or  -0.93 point. India's BSE Sensex is trading at 35,686.24 with a loss of -0.58% percent or -207.41  point at 12:15 PM.The FTSE 100 is trading at 6,707.95 with  a loss of -0.39% percent or -26.28 point. Germany's DAX is trading at 10,455.26   with a loss of -1.18% percent or -121.78 point. France's CAC 40 is trading at 4,637.51  with a loss of -4,637.51 percent or -52.57 point. The Stoxx Europe 600 is trading at 334.83    with a loss of -0.78% percent or -2.66 point.
Thursday's Factors and Events
"While we anticipated some challenges in key emerging markets, we did not foresee the magnitude of the economic deceleration, particularly in Greater China," Cook wrote in a letter to investors on the warning. "We believe the economic environment in China has been further impacted by rising trade tensions with the United States. As the climate of mounting uncertainty weighed on financial markets, the effects appeared to reach consumers as well, with traffic to our retail stores and our channel partners in China declining as the quarter progressed."
Wednesday's Activity
For the day The Nasdaq Composite is trading at 6,665.94   up with +0.46% percent or +30.66 point. the Dow is trading at 23,346.24  up with +0.081% percent or +18.78 point. The S&P 500 is trading at 2,510.03  up with +0.13% percent or +3.18 point.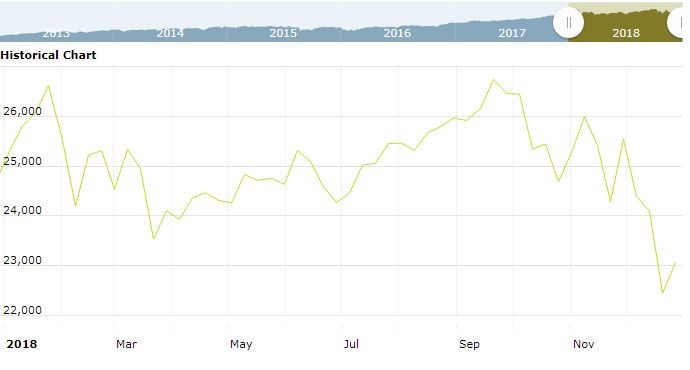 Other leading market index closes included the small-cap Russell 2000 Index closed at 1,355.91  up with +0.54% percent or +7.35 point; the S&P 600 Small-Cap Index closed at 848.33 up with +0.40%percent or +3.39  point; the S&P 400 Mid-Cap Index closed at 1,657.93   with a loss of -0.31% percent or -5.11 point; the S&P 100 Index closed at 1,118.14  up with +0.38% percent or +4.27 point; the Russell 3000 Index closed at 1,473.66   up with +0.10% percent or +1.53  point; the Russell 1000 Index closed at 1,385.23  up with +0.070% percent or +0.97 point;