U.S. stock futures higher  in pre-market trading for , January 04.The Nasdaq Futures is trading at 6,257.75  up with +1.55% percent or +95.50 point.The Dow Futures is trading at 22,912.00 up with +1.12% percent or +253.00 point. The S&P 500 Futures is trading at 2,477.75 up with +1.23% percent or +30.00 point.
In overnight trading in the Eastern Hemisphere, Japan's Nikkei 225 is trading at 19,561.96   with a loss of -2.26% percent or -452.81 point. Hong Kong's Hang Seng is trading at 25,473.49  up with +1.63% percent or +409.13 point. China's Shanghai Composite is trading at 2,510.77 up with +2,510.77 percent or  +46.40 point. India's BSE Sensex is trading at 35,573.49 up with +0.15% percent or +54.18  point at 12:15 PM.The FTSE 100 is trading at 6,768.53  up with +1.13% percent or +75.87 point. Germany's DAX is trading at 10,568.09  up with +1.45% percent or +150.79 point. France's CAC 40 is trading at 4,661.62  up with +1.09% percent or +50.14 point. The Stoxx Europe 600 is trading at 338.29 up with +1.31% percent or +4.36 point.
Friday's Factors and Events
nvestors will also be keeping an eye on a speech by Federal Reserve chair Jerome Powell at 10:15 am ET. Powell will take part in "Federal Reserve Chairs: Joint Interview" panel on monetary policy and central banking at the American Economic Association and Allied Social Science Association annual meeting in Atlanta, Georgia.
U.S. stocks plunged on Thursday following news that Apple had cut its revenue guidance on the back of economic deceleration in China. This sparked concerns over a broader economic slowdown of the global economy. The Dow dropped as much as 2.8 percent on the day and the Nasdaq fell 3 percent.
On Friday, investors will be monitoring key data releases, with nonfarm payrolls out at 8.30 a.m., and unemployment data out at the same time.
Thursday's Activity
For the day The Nasdaq Composite is trading at 6,463.50 with a loss of -3.04% percent or -202.43 point. the Dow is trading at 22,686.22  with  a loss of -2.83% percent or -660.02 point. The S&P 500 is trading at 2,447.89  with a loss of  -2.48% percent or -62.14 point.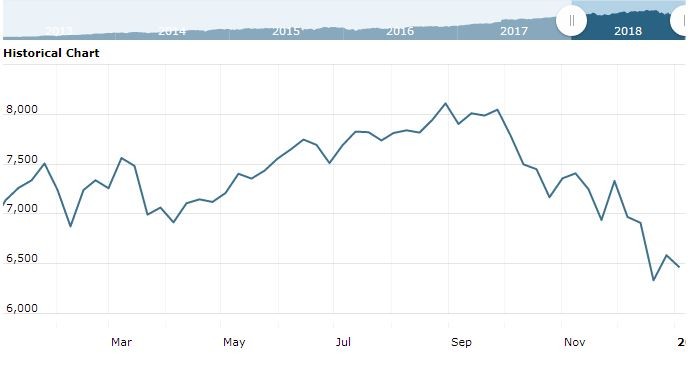 Other leading market index closes included the small-cap Russell 2000 Index closed at 1,330.83   with a loss of -1.85% percent or -25.07 point; the S&P 600 Small-Cap Index closed at 832.81  with a loss of -1.83% percent or 15.52  point; the S&P 400 Mid-Cap Index closed at 1,631.56  with a loss of -1.59% percent or -26.37 point; the S&P 100 Index closed at 1,088.03  with a loss of  -2.69% percent or -30.11 point; the Russell 3000 Index closed at 1,438.76  with a loss of -2.27% percent or -33.38  point; the Russell 1000 Index closed at 1,351.87   with a loss of -2.34% percent or -32.39 point;