U.S. stock futures higher  in pre-market trading for , January 18.The Nasdaq Futures is trading at 6,733.12 up with +0.20% percent or +13.12 point.The Dow Futures is trading at 24,390.50 up with +0.29% percent or +69.50 point. The S&P 500 Futures is trading at 2,639.88  up with +0.18% percent or +4.63 point.
In overnight trading in the Eastern Hemisphere, Japan's Nikkei 225 is trading at 20,402.27 with a loss of -0.20% percent or -40.48 point. Hong Kong's Hang Seng is trading at 26,799.15  with a loss of -0.38% percent or -102.95 point. China's Shanghai Composite is trading at 2,559.64  with a loss of -0.42% percent or  -10.79 point. India's BSE Sensex is trading at 36,329.46  up with +0.022% percent or +8.17 point at 12:15 PM.The FTSE 100 is trading at 6,915.23 up with +1.17% percent or +80.31 point. Germany's DAX is trading at 11,029.11 up with +1.01% percent or +110.49 point. France's CAC 40 is trading at 4,848.69  up with +1.13% percent or +54.33 point. The Stoxx Europe 600 is trading at 354.19 up with +0.99% percent or +3.53 point.
Friday's Factors and Events
The stock market ended on a positive note on Thursday after the Wall Street Journal reported that the U.S. could ease trade tariffs against China. The suggestion reportedly came from Treasury Secretary Steven Mnuchin, but faced pushback from U.S. Trade Representative Robert Lighthizer. Wall Street rallied on the news but pared some of those gains after a senior government official told CNBC that Mnuchin had not made any such recommendations.
Shares of Tesla were getting slammed in the premarket after CEO Elon Musk said the automaker is cutting its full-time staff headcount by about 7 percent, as it looks to ramp up production of its Model 3 sedans.
Thursday's Activity
For the day The Nasdaq Composite is trading at +7,034.69 up with +0.15% percent or +10.86 point.the Dow is trading at 24,207.16 up with +0.59% percent or +141.57 point. The S&P 500 is trading at 2,616.10 up with +0.22% percent or +5.80 point.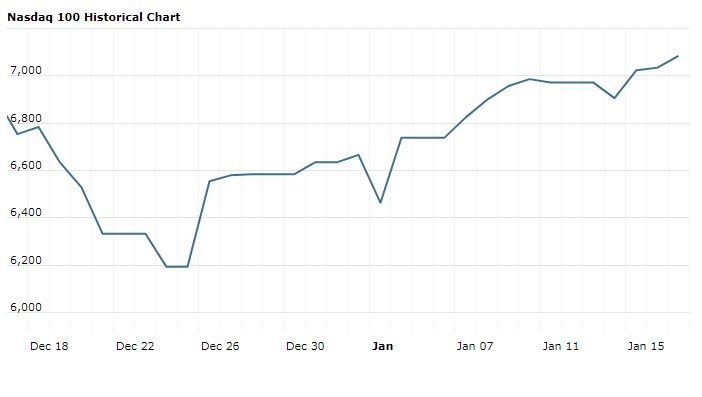 Other leading market index closes included the small-cap Russell 2000 Index closed at 1,467.25  up with +0.86% percent or +12.55 point; the S&P 600 Small-Cap Index closed at 915.13 up with +0.91% percent or +8.29  point; the S&P 400 Mid-Cap Index closed at 1,792.20 up with +0.92% percent or +16.30 point; the S&P 100 Index closed at 1,167.86  up with +0.68% percent or +7.92 point; the Russell 3000 Index closed at 1,555.35  up with +0.78% percent or + 12.00 point; the Russell 1000 Index closed at 1,459.19  up with +0.77% percent or +11.16 point.