U.S. stock futures lower  in pre-market trading for , January 21.The Nasdaq Futures is trading at 6,761.00  with a loss of -0.47% percent or -31.75 point.The Dow Futures is trading at 24,576.00 with a loss of  -0.45% percent or -111.00 point.The S&P 500 Futures is trading at 2,659.88  with a loss of -0.43% percent or -11.62 point.
In overnight trading in the Eastern Hemisphere,  Japan's Nikkei 225 is trading at 220,719.33 with +0.26% percent or +53.26 point. Hong Kong's Hang Seng is trading at 27,176.94  with 0.32% percent or -102.95 point. China's Shanghai Composite is trading at 2,610.51 up with +0.56% percent or  +14.50  point. India's BSE Sensex is trading at 36,627.58  up with +0.66% percent or +240.97 point at 12:15 PM.The FTSE 100 is trading at 6,985.26 up with +0.24% percent or +16.93 point. Germany's DAX is trading at 11,158.16 with  a loss of -0.42% percent or -47.38 point. France's CAC 40 is trading at 4,869.55 with a loss of – 0.13% percent or -6.38 point. The Stoxx Europe 600 is trading at 356.25  with a loss of  -0.22% percent or -0.78 point.
Monday's Factors and Events
The Wall Street Journal reported that Treasury Secretary Steven Mnuchin had floated the idea of easing tariffs on Chinese goods as the two countries continue to negotiate on trade. The report sent the major indexes to their session highs on Thursday. However, a senior administration official told CNBC that there is "no discussion of lifting tariffs now."
"What we're seeing, in terms of valuation, now that markets have recovered a lot of the lost ground, is they're starting to become overvalued once again," said Petra Bakosova, chief operating officer at Hull Tactical. "When the market bottomed out in December, that was a buying opportunity."
Friday's Activity
For the day The Nasdaq Composite is trading at 7,157.23 up with +1.03% percent or +72.76 point. the Dow is trading at 24,706.35 up with +2.06% percent or +499.19 point. The S&P 500 is trading at 2,670.71 up with +1.32% percent or +34.75 point.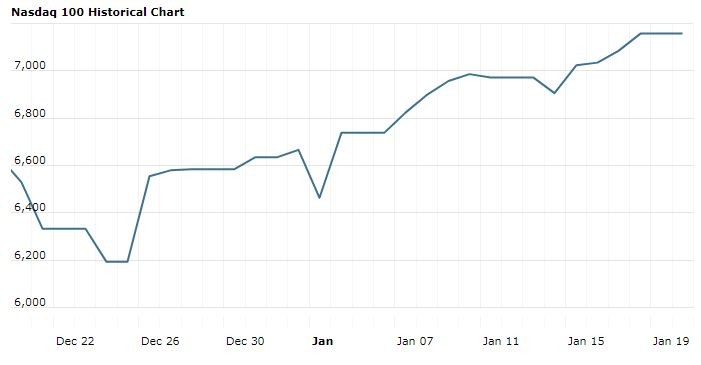 Other leading market index closes included the small-cap Russell 2000 Index closed at 1,482.50  up with +1.04% percent or +15.25 point; the S&P 600 Small-Cap Index closed at 924.28 up with +1.00% percent or +9.15  point; the S&P 400 Mid-Cap Index closed at 1,817.25 up with +1.40% percent or +25.05point; the S&P 100 Index closed at 1,181.55  up with +1.17% percent or +13.69 point; the Russell 3000 Index closed at 1,575.36  up with +1.29% percent or + 20.02 point; the Russell 1000 Index closed at 1,478.25  up with +1.31% percent or +19.06 point