U.S. stock futures lower  in pre-market trading for , January 22.The Nasdaq Futures is trading at 6,733.38  with a loss of -0.87% percent or -59.37 point.The Dow Futures is trading at 24,538.50 with a loss of  -0.60% percent or -148.50 point.The S&P 500 Futures is trading at 2,653.88  with a loss of -0.66% percent or -17.62 point.
In overnight trading in the Eastern Hemisphere, Japan's Nikkei 225 is trading at 20,622.91 with a loss of -0.47% percent or -96.42 point. Hong Kong's Hang Seng is trading at 26,933.55  with a loss of  -0.97% percent or -262.99 point. China's Shanghai Composite is trading at 2,579.70  with a loss of -1.18% percent or  -30.81 point. India's BSE Sensex is trading at 36,342.71   with a loss of -0.65% percent or -236.25 point at 12:15 PM.The FTSE 100 is trading at 6,929.03  with a loss of -0.60% percent or -41.56 point. Germany's DAX is trading at 11,081.03 with  a loss of -0.50% percent or -55.17 point. France's CAC 40 is trading at 4,841.12 with a loss of -0.55% percent or -26.65 point. The Stoxx Europe 600 is trading at
355.24  with a loss of  -0.31% percent or -1.12 point.
Tuesday's Factors and Events
"(There's) a lot of geopolitical risk between the U.S. and China — certainly we are in a worse place than we were a year ago, " Martin Gilbert, the co-CEO of British investment company Standard Life Aberdeen, told CNBC.
At the same time, the U.K. inches closer to its official departure date from the European Union of March 29 with no deal in sight, leaving the country with the possibility of crashing out of the EU without a formal agreement — something that business leaders and industry experts have been warning about since the negotiations began.
Monday's Activity
For the day The Nasdaq Composite is trading at 7,157.23 up with +1.03% percent or +72.76 point. the Dow is trading at 24,706.35 up with +2.06% percent or +499.19 point. The S&P 500 is trading at 2,670.71 up with +1.32% percent or +34.75 point.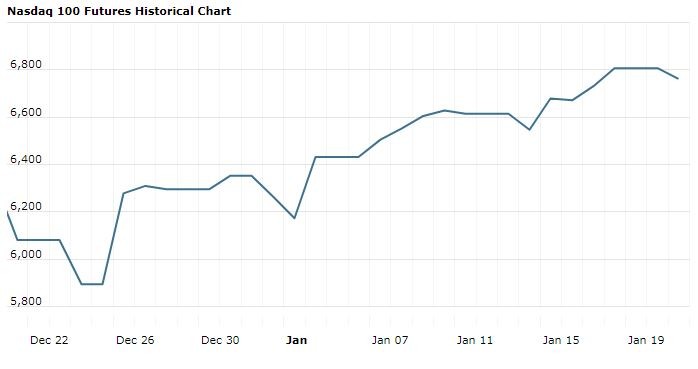 Other leading market index closes included the small-cap Russell 2000 Index closed at 1,482.50  up with +1.04% percent or +15.25 point; the S&P 600 Small-Cap Index closed at 924.28 up with +1.00% percent or +9.15  point; the S&P 400 Mid-Cap Index closed at 1,817.25 up with +1.40% percent or +25.05point; the S&P 100 Index closed at 1,181.55  up with +1.17% percent or +13.69 point; the Russell 3000 Index closed at 1,575.36  up with +1.29% percent or + 20.02 point; the Russell 1000 Index closed at 1,478.25  up with +1.31% percent or +19.06 point