U.S. stock futures lower  in pre-market trading for , January 28.The Nasdaq Futures is trading at 6,751.12  with a loss of -0.59% percent or -40.13 point.The Dow Futures is trading at 24,581.50  with a loss of -0.46% percent or -114.50 point.The S&P 500 Futures is trading at 2,650.12  with a loss of -0.50% percent or -13.38 point.
In overnight trading in the Eastern Hemisphere, Japan's Nikkei 225 is trading at 20,649.00  with a loss of -0.60% percent or -124.56 point. Hong Kong's Hang Seng is trading at 27,554.06  with a loss of -0.055% percent or -15.13 point. China's Shanghai Composite is trading at 2,596.98  with a loss of -0.18% percent or -4.75 point. India's BSE Sensex is trading at 35,689.85  with a loss of -0.93% percent or -335.69 point at 12:15 PM.The FTSE 100 is trading at 6,779.31  with  a loss of -0.44% percent or -29.91 point. Germany's DAX is trading at 11,252.59 with a loss of – 0.26% percent or -29.20 point. France's CAC 40 is trading at 4,903.71  with a loss of -0.45% percent or -22.11 point. The Stoxx Europe 600 is trading at 356.46  with a loss of -0.39% percent or -1.32  point.
Monday's Factors and Events
President Donald Trump told the Wall Street Journal on Sunday that another government shutdown is "certainly an option," expressing skepticism that Congress would reach a deal to fund the border wall he has requested. His comments followed a bill on Friday to end the 35-day shutdown — the longest in history.
In terms of economic data, there will be U.S. housing starts and U.S. balance of trade numbers out at 1.30 p.m. ET as well as U.S. new home sales data out at 3 p.m. ET. The Dallas Fed manufacturing numbers will be released at 10:30 a.m. ET.
Friday's Activity
For the day The Nasdaq Composite is trading at 7,164.86 up with +1.29% percent or +91.40 point.the Dow is trading at 24,737.20  up with +0.75% percent or +183.96 point. The S&P 500 is trading at 2,664.76 up with +0.85% percent or +22.43 point.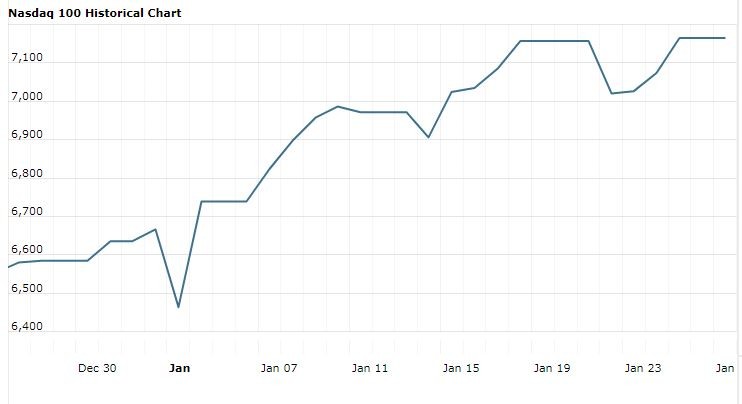 Other leading market index closes included the small-cap Russell 2000 Index closed at 1,482.85 up with +1.26% percent or +18.45 point; the S&P 600 Small-Cap Index closed at 922.98  up with +1.13% percent or +10.30  point; the S&P 400 Mid-Cap Index closed at 1,818.57  up with +1.07% percent or +19.34 point; the S&P 100 Index closed at 1,176.11  up with +0.74% percent or +8.68 point; the Russell 3000 Index closed at 1,573.31  up with +0.93% percent or +14.43 point; the Russell 1000 Index closed at 1,476.14  up with +0.90% percent or +13.16 point