U.S. stock futures higher  in pre-market trading for , January 30.The Nasdaq Futures is trading at 6,685.00  up with +0.70% percent or +46.25 point.The Dow Futures is trading at 24,616.50 up with +0.26% percent or +63.50 point. The S&P 500 Futures is trading at 2,645.12  up with +0.18% percent or +4.87 point.
In overnight trading in the Eastern Hemisphere, Japan's Nikkei 225 is trading at 20,556.54  with a loss of -0.52% percent or -108.10 point. Hong Kong's Hang Seng is trading at 27,531.88  up with +0.00073% percent or +0.20  point. China's Shanghai Composite is trading at 2,575.58 with a loss of -0.72% percent or -18.68 point. India's BSE Sensex is trading at 35,616.37  up with +0.067% percent or +23.87 point at 12:15 PM.The FTSE 100 is trading at 6,914.04 UP with +1.17% percent or +80.11 point. Germany's DAX is trading at 11,170.83 with a loss of -0.43% percent or -48.00 point. France's CAC 40 is trading at 4,951.18  up with +0.47% percent or +23.01 point. The Stoxx Europe 600 is trading at 357.35  up with +0.02% percent or +0.08 point.
Wednesday's Factors and Events
Market focus is largely attuned to global trade developments, with Chinese Vice Premier Liu He arriving in Washington to meet U.S. officials on Wednesday. Treasury Secretary Steven Mnuchin said on Tuesday that he expected the world's two largest economies to make significant progress toward a comprehensive trade agreement this week.
However, many market participants remain skeptical about whether the economic giants can bridge differences over a number of issues, including intellectual property rights and technology transfers.
Tuesday's Activity
For the day The Nasdaq Composite is trading at 7,028.29  with a loss of -0.81% percent or -57.39 point. the Dow is trading at 24,579.96  up with +0.21% percent or +51.74 point. The S&P 500 is trading at 2,640.00 with a loss of -0.15% percent or -3.85 point.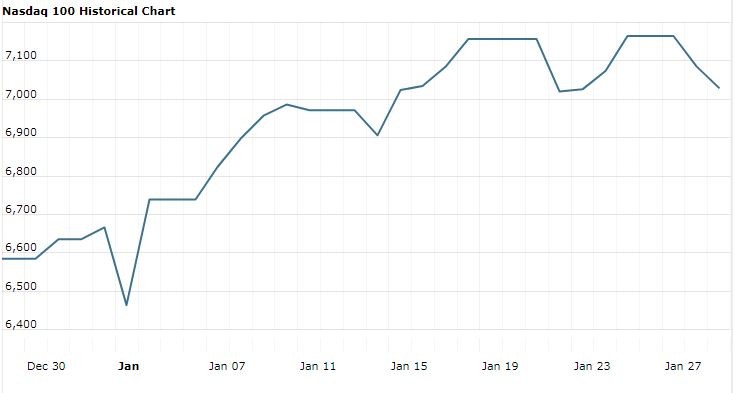 Other leading market index closes included the small-cap Russell 2000 Index closed at 1,471.45  with a loss of -0.14% percent or -2.09 point; the S&P 600 Small-Cap Index closed at 917.07  with 0.00%percent or 0.00% point; the S&P 400 Mid-Cap Index closed at 1,816.01 with a loss of -0.0028% percent or -0.050 point; the S&P 100 Index closed at 1,160.65  with a loss of -0.33% percent or -3.79 point; the Russell 3000 Index closed at 1,559.73   with  a loss of -0.14% percent or -2.23 point; the Russell 1000 Index closed at 1,463.29   with a loss of -0.14% percent or -2.09 point