U.S. stock futures lower  in pre-market trading for , April 22.The Nasdaq Futures is trading at 7,692.88   with a loss of -0.25%  percent or -19.62 point.The Dow Futures is trading at 26,510.00  with a loss of -0.21% percent or -56.00 point.The S&P 500 Futures is trading at 2,903.38  with a loss of -0.23% percent or -6.62 point.
In overnight trading in the Eastern Hemisphere, In other parts of world, Japan's Nikkei 225 is trading at 22,217.90  up with +0.078% percent or +17.34 point. Hong Kong's Hang Seng is trading at 29,963.26  with a loss of -0.54% percent or -161.42   point. China's Shanghai Composite is trading at 3,215.04  with a loss of -1.70% percent or -55.76 point. India's BSE Sensex is trading at 38,869.10   with a loss of -0.69% percent or -271.12 point at 12:15 PM..The FTSE 100 is trading at 7,459.88  with a loss of -0.15% percent or -11.44 point. Germany's DAX is trading at 12,222.39 up with +0.57% percent or  +69.32 point. France's CAC 40 is trading at 5,580.38 up with +0.31% percent or +17.29 point. The Stoxx Europe 600 is trading at 390.46  up with +0.22% percent or +0.87 point.
Monday's Factors and Events
The earnings season is off to a good start. So far, more than 78% of the S&P 500 companies that have reported have topped analyst expectations, according to FactSet.
"What can we infer about the early 1Q 2019 reporters? The results are coming in 'better than feared,'" wrote Nick Raich, CEO of The Earnings Scout. "While the rate of 1Q 2019 earnings growth (+5.60%) is down significantly from how these same companies grew 4Q 2018 earnings (+21.02%), it is positive growth and not the negative earnings growth so many were forecasting just a few weeks ago."
Friday's Activity
For the day The Nasdaq Composite is trading at 7,998.06  up with +0.025% percent or +1.98 point. the Dow is trading at 26,559.54  up with +0.40% percent or +106.88 point. The S&P 500 is trading at 2,905.03 up with +0.16% percent or +4.58 point.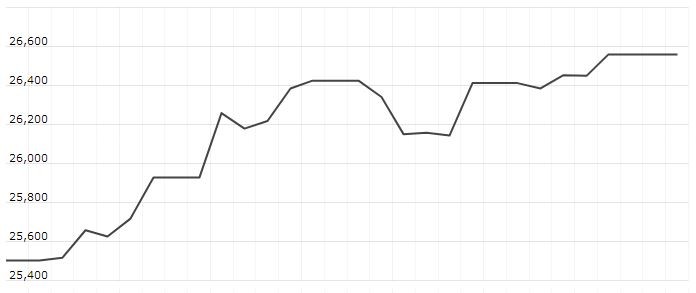 Other leading market index closes included the small-cap Russell 2000 Index closed at 1,565.75  with a loss of -0.12% percent or -1.85 point; the S&P 600 Small-Cap Index closed at 962.66 with a loss of -0.20% percent or -1.89 point; the S&P 400 Mid-Cap Index closed at 1,953.43 up with +0.25% percent or +4.84 point; the S&P 100 Index closed at 1,287.40  up with +0.099% percent or +1.27 point; the Russell 3000 Index closed at 1,710.97 up  with +0.13% percent or +2.25 point; the Russell 1000 Index closed at 1,608.93  up with +0.15% or +2.41 point.