U.S. stock futures higher in pre-market trading for,October 15.The Nasdaq Futures is trading at 7,874.75 up with +0.22% percent or +17.25 point.The Dow Futures is trading at 26,787.40 with a loss of -0.11% percent or -29.23 point.  The S&P 500 Futures is trading at 2,974.88  up with +0.32% percent or +9.38 point.

In overnight trading in the Eastern Hemisphere, In other parts of world, Japan's Nikkei 225 is trading at 22,207.21 up with +1.87% percent or +408.34 point. Hong Kong's Hang Seng is trading at 26,503.79 with a loss of –0.068% percent or –18.06 point. China's Shanghai Composite is trading at 2,991.05 with a loss of –0.56% percent or –16.84 point. India's BSE Sensex is trading at 38,454.09 up with +0.63% percent or +239.62 point at 12:15 PM.Germany's DAX is trading at 12,537.05 up with +0.40% percent or  +50.49 point. France's CAC 40 is trading at 5,675.06 up with +0.57% percent or +31.99 point. The Stoxx Europe 600 is trading at 391.38 up with +0.43% percent or +1.73 point.
Tuesday's Factors and Events
"Certainly, we've been on this roller coaster before with the suggestion that a resolution is around the corner, but then find out there are several more corners behind this one," said John Carey, a portfolio manager and director of U.S. equity income at Amundi Pioneer Asset Management, in an interview with MarketWatch. "There was concern optimism might be premature."
Monday Activity
For the day The Nasdaq Composite is trading at 8,048.65 with a loss of -0.10% percent or -8.39 point. the Dow is trading at 26,787.36 with a loss of –0.11% percent or  –29.23  point. The S&P 500 is trading at 2,966.15  with a loss of –0.14% percent or –4.12 point.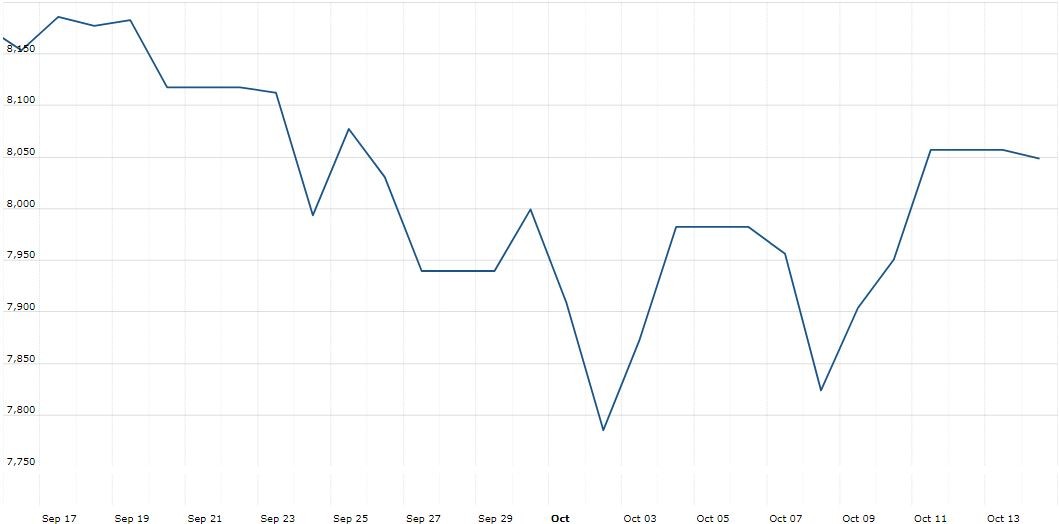 Other leading market index closes included the small-cap Russell 2000 Index closed at 1,505.43 up with +1.35% percent or +20.07 point; the S&P 600 Small-Cap Index closed at 932.17  with a loss of –0.37% percent or -3.43 point; the S&P 400 Mid-Cap Index closed at 1,909.03 with a loss of –0.39% percent or -7.54 point; the S&P 100 Index closed at 1,314.56  with a loss of –0.092% percent or  –1.21 point; the Russell 3000 Index closed at 1,735.82 up with +1.02%  percent or  +17.45  point; the Russell 1000 Index closed at 1,638.59  up with +0.99%  or +16.10 point.