U.S. stock futures lower in pre-market trading for,October 16.The Nasdaq Futures is trading at 7,937.25  with a loss of -0.28% percent or -22.50 point.The Dow Futures is trading at 26,933.50 with a loss of -0.25% percent or -68.50 point.  The S&P 500 Futures is trading at 2,989.12   with a loss of -0.29% percent or -8.63 point.

In overnight trading in the Eastern Hemisphere,In other parts of world, Japan's Nikkei 225 is trading at 22,472.92 up with +1.20% percent or +265.71 point. Hong Kong's Hang Seng is trading at 26,628.74 up with +0.47% percent or +124.81 point. China's Shanghai Composite is trading at 2,978.71 with a loss of –0.41% percent or –12.33  point. India's BSE Sensex is trading at 38,454.64 with a loss of –0.13% percent or –51.45 point at 12:15 PM.Germany's DAX is trading at 12,653.30 up with +0.19% percent or  +23.51 point. France's CAC 40 is trading at 5,697.81  with a loss of -0.074% percent or –4.23 point. The Stoxx Europe 600 is trading at 393.93  with a loss of -0.02% percent or -0.09 point.
Wednesday's Factors and Events
Beijing threatened to retaliate over the passage of measures in Washington aimed at supporting Hong Kong protesters, while pro-democracy lawmakers shouted down Hong Kong's Carrie Lam.
The Brexit barometer was looking less optimistic as Bloomberg News quoted European Union sources as saying a deal was "impossible" without movement from Britain. Bank of America BAC, +2.02%  reported third-quarter earnings that were ahead of forecast. After the close of trade, Netflix NFLX, -0.45%  and IBM IBM, +0.68%  will report results. Outside of earnings, Eli Lilly LLY, +1.67%  reported a late-stage trial of a pancreatic cancer drug showed it didn't improve survival.
Tuesday Activity
For the day The Nasdaq Composite is trading at 8,148.71 up with +1.24% percent or +100.06 point.the Dow is trading at 27,024.80 up with +0.89% percent or +237.44  point. The S&P 500 is trading at 2,995.68 up with  +1.00% percent or +29.53 point.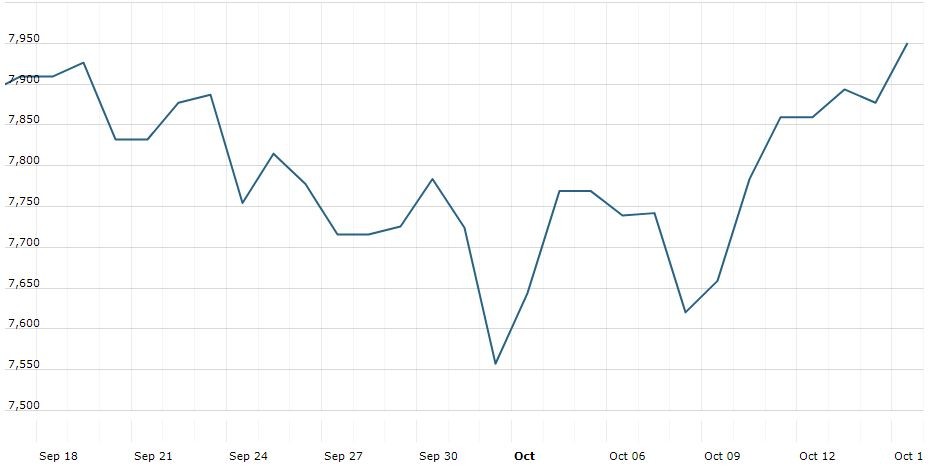 Other leading market index closes included the small-cap Russell 2000 Index closed at 1,523.30 up with +1.19% percent or +17.87 point; the S&P 600 Small-Cap Index closed at 942.32 up with +1.09% percent or +10.15 point; the S&P 400 Mid-Cap Index closed at 1,924.31 up with +0.80% percent or +15.28 point; the S&P 100 Index closed at 1,328.43  up with +1.06% percent or +13.87 point; the Russell 3000 Index closed at 1,752.96 up with +0.99%  percent or  +17.14  point; the Russell 1000 Index closed at 1,654.55  up with +0.97%  or +15.95 point.