U.S. stock futures higher in pre-market trading for,Jan 22.The Nasdaq Futures is trading at 9,131.38  with a loss of -0.47% percent or -43.12 point.The Dow Futures is trading at 29,262.00  up with a +0.28% percent or +83.00 point.The S&P 500 Futures is trading at 3,331.62 up with +0.37% percent or +12.12 point.

In overnight trading in the Eastern Hemisphere,In other parts of world, Japan's Nikkei 225 is trading at 24,031.35 up with +0.70% percent or +166.79   point. Hong Kong's Hang Seng is trading at 28,362.09 up with +1.35% percent or +376.76  point. China's Shanghai Composite is trading at 3,060.75 up with +0.28% percent or +8.61 point. India's BSE Sensex is trading at 41,234.12 with a loss of –0.22% percent or –89.69 point at 12:15 PM.Germany's DAX is trading at 13,568.54 up with +12.770.093% percent or +12.77 point. France's CAC 40 is trading at 6,048.97 up with +0.049% or +2.99 percent or –57.16 point. The Stoxx Europe 600 is trading at 423.93  with 0.12% percent or 0.59 point.
Wednesday's Factors and Events
Some of the biggest names in the hedge-fund industry have been making the case in recent days that it is no time to pull back on stocks.
David Tepper said he "loves riding a horse that's running," and Stanley Druckenmiller followed up to say he too is riding the proverbial horse. Even Paul Tudor Jones, who has embraced the analogies to the frothy stock market of 1999, says the current rally has a way to go.
But not everyone wants to stay on the racecourse. Tony Dwyer, a longtime bull and strategist at brokerage Canaccord Genuity, is getting a little nervous and said it is time "to take offense temporarily off the field."
Tuesday Activity
For the day The Nasdaq Composite is trading at 9,370.81 with a loss of –0.19% percent or –18.14 point.the Dow is trading at 29,196.04 with a loss of –0.52% percent or –152.06  point. The S&P 500 is trading at 3,320.79  with a loss of –0.27% percent or -8.83 point.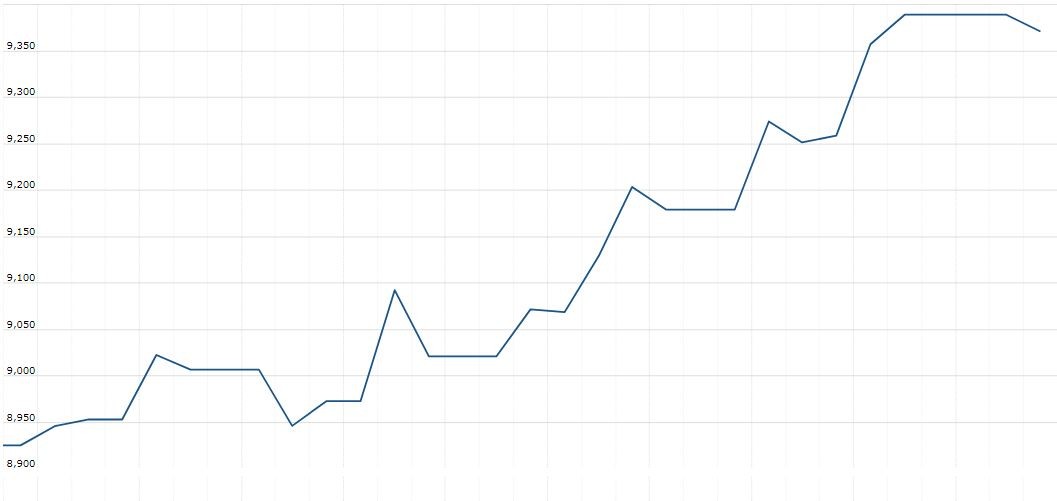 Other leading market index closes included the small-cap Russell 2000 Index closed at 1,685.90 with  a loss of -0.81%  percent or -13.74 point; the S&P 600 Small-Cap Index closed at 1,029.72  with a loss of –0.92% percent or ?9.56 point; the S&P 400 Mid-Cap Index closed at 2,082.93 with a loss of –0.60% percent or -12.62 point; the S&P 100 Index closed at 1,485.68 with a loss of –0.26% percent or -3.94  point; the Russell 3000 Index closed at 1,944.33  with a loss of –0.28% percent or -5.54 point; the Russell 1000 Index closed at 1,835.45 with a loss of –0.25% or -4.56 point.