U.S. stock futures mixed in pre-market trading for,Jan 23.The Nasdaq Futures is trading at 9,207.62  up with +0.13% percent or +11.87 point.The Dow Futures is trading at 29,123.50  with a loss of -0.05% percent or -13.50 point.The S&P 500 Futures is trading at 3,320.62 up with +0.03% percent or +0.87 point.

In overnight trading in the Eastern Hemisphere,In other parts of world, Japan's Nikkei 225 is trading at 24,031.35 up with +0.70% percent or +166.79   point. Hong Kong's Hang Seng is trading at 28,362.09 up with +1.35% percent or +376.76  point. China's Shanghai Composite is trading at 3,060.75 up with +0.28% percent or +8.61 point. India's BSE Sensex is trading at 41,234.12 with a loss of –0.22% percent or –89.69 point at 12:15 PM.Germany's DAX is trading at 13,568.54 up with +12.770.093% percent or +12.77 point. France's CAC 40 is trading at 6,048.97 up with +0.049% or +2.99 percent or –57.16 point. The Stoxx Europe 600 is trading at 423.93  with 0.12% percent or 0.59 point.
Wednesday's Factors and Events
It seems that risk sentiment is considering much of the widespread news and talk of a potential SARS 2003 outbreak as predominantly fear mongering, and that the situation will eventually return to normal, as it has historically," said Bethel Loh, macro strategist at ThinkMarkets, in a note.
Dow-component Johnson & Johnson JNJ, -0.68% reported a fourth-quarter profit that beat expectations, though revenue came up a bit shy and the stock slipped 0.68%.
Tesla Inc. TSLA, +4.09% market capitalization soared to over $100 billion with the stock ending up 4.09% after an analyst upped his price target by 50%.
Tuesday Activity
For the day The Nasdaq Composite is trading at 9,370.81 with a loss of –0.19% percent or –18.14 point.the Dow is trading at 29,196.04 with a loss of –0.52% percent or –152.06  point. The S&P 500 is trading at 3,320.79  with a loss of –0.27% percent or -8.83 point.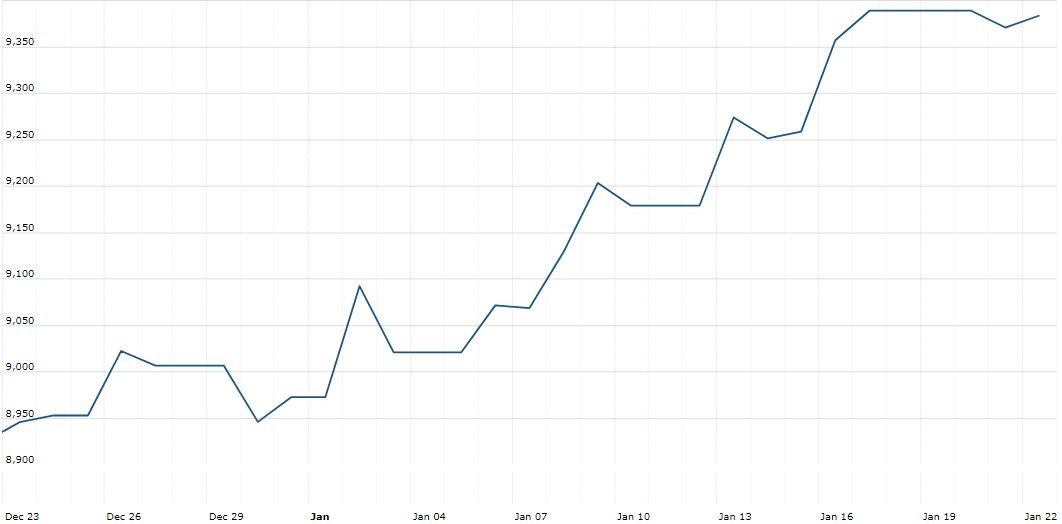 Other leading market index closes included the small-cap Russell 2000 Index closed at 1,685.90 with  a loss of -0.81%  percent or -13.74 point; the S&P 600 Small-Cap Index closed at 1,029.72  with a loss of –0.92% percent or ?9.56 point; the S&P 400 Mid-Cap Index closed at 2,082.93 with a loss of –0.60% percent or -12.62 point; the S&P 100 Index closed at 1,485.68 with a loss of –0.26% percent or -3.94  point; the Russell 3000 Index closed at 1,944.33  with a loss of –0.28% percent or -5.54 point; the Russell 1000 Index closed at 1,835.45 with a loss of –0.25% or -4.56 point.