U.S. stock  lower in pre-market trading for,March 05.The Nasdaq Futures is trading at 8,731.25  with a loss of -1.86% percent or -165.25 point.The Dow Futures is trading at 26,491.00  with a loss of -1.76% percent or -474.00 point.The S&P 500 Futures is trading at 3,054.62  with a loss of -1.93% percent or -60.13 point.
In overnight trading in the Eastern Hemisphere,In other parts of world, Japan's Nikkei 225 is trading at 21,329.12 up with +1.09% percent or +229.06 point. Hong Kong's Hang Seng is trading at 26,772.54 up with +2.10% percent or +550.47 point. China's Shanghai  Composite is trading at 3,071.68 up with +1.99% percent or +60.01  point. India's BSE Sensex is trading at 38,733.19 with a loss of –0.84% percent or +323.71   point at 12:15 PM.Germany's DAX is trading at 11,998.59  with a loss of –1.06% percent or ?129.10 point. France's CAC 40 is trading at 5,384.95 with a loss of –1.46% percent or –79.94 point. The Stoxx Europe 600 is trading at 382.13 up with -1.08% percent or -4.17  point.
Thursday's Factors and Events
The business, with a tagline of "one platform for your team and your work" is relatively straightforward, which is part of the problem. Wall Street is worried that Slack won't be able to compete long-term and attract paid subscriptions in a work-place communication industry currently dominated by Microsoft (NASDAQ:MSFT) and Google (NASDAQ:GOOGL) .
But Slack has crushed our quarterly earnings estimates in the last two quarters. The firm also fully launched in the third quarter its new shared channels feature, which co-founder and CEO Stewart Butterfield called its "most exciting product release in collaboration since we first launched Slack."
Wednesday Activity
For the day The Nasdaq Composite is trading at 9,018.09 up with +3.85% percent or +334.00  point. the Dow is trading at 27,090.86 up with +4.53% percent or +1,173.45  point. The S&P 500 is trading at 3,130.12 up with +4.22% 8 percent or  +126.75 point.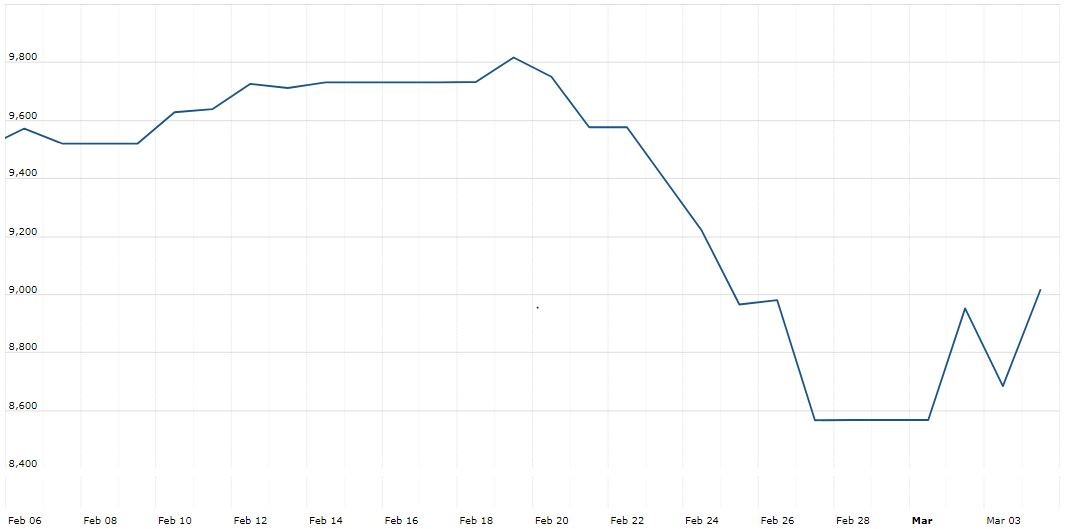 Other leading market index closes included the small-cap Russell 2000 Index closed at 1,531.20 up with +3.04% percent or +45.11 point; the S&P 600 Small-Cap Index closed at 916.47 up with +3.14% percent or +27.87 point; the S&P 400 Mid-Cap Index closed at 1,899.66 up with +3.51% percent or +64.47 point; the S&P 100 Index closed at 1,402.72 up with +4.20%percent or +56.49 point; the Russell 3000 Index closed at 1,828.13 up with +4.05% percent or +71.18  point; the Russell 1000 Index closed at 1,729.80 up with +4.12% or +68.43 point.