U.S. stock  lower in pre-market trading for,March 06.The Nasdaq Futures is trading at 8,423.25 with a loss of –2.61% percent or -225.50 point.The Dow Futures is trading at 25,506.50  with a loss of -2.12% percent or -553.50 point.The S&P 500 Futures is trading at 2,942.12 with a loss of -2.43% percent or –73.38 point.
In overnight trading in the Eastern Hemisphere,In other parts of world, Japan's Nikkei 225 is trading at 20,749.75 with a loss of –2.72% percent or –579.37 point. Hong Kong's Hang Seng is trading at 26,156.43 with a loss of –2.28% percent or –611.44 point. China's Shanghai  Composite is trading at 3,034.51 with a loss of –1.21% percent or –37.17  point. India's BSE Sensex is trading at 37,419.73 with a loss of –2.73% percent or –1,050.88  point at 12:15 PM.Germany's DAX is trading at 11,509.94  with a loss of –3.64% percent or ?434.78 point. France's CAC 40 is trading at 5,161.74 with a loss of –3.72% percent or –199.36 point. The Stoxx Europe 600 is trading at 367.26 up with -3.62% percent or -13.80  point.
Friday's Factors and Events
German manufacturing orders in January were up 5.5% on the previous month, the German statistics office said on Friday. And they were up 1.4% compared with January 2019. A two-year industrial slump seemed about to end, as fears about possible trade wars were beginning to subside, and the global economy looked like it might recover this year.
Then the coronavirus struck. Germany has become one of the European countries worst-hit by the COVID-19 disease, after Italy and France. But even if it hadn't, the country's economy was bound to become one of the main victims of the outbreak because of Germany's massive exposure to China. Being an export powerhouse has its downsides, and the German automobile industry, in particular, is hit both by disruptions among its suppliers and the fall in Chinese demand for its cars.
Thursday Activity
For the dayThe Nasdaq Composite is trading at 8,738.60 with a loss of –3.10% percent or –279.49  point.the Dow is trading at 26,121.28  with a loss of –3.58% percent or –969.58  point. The S&P 500 is trading at 3,023.94 with a loss of –3.39%percent or –106.18 point.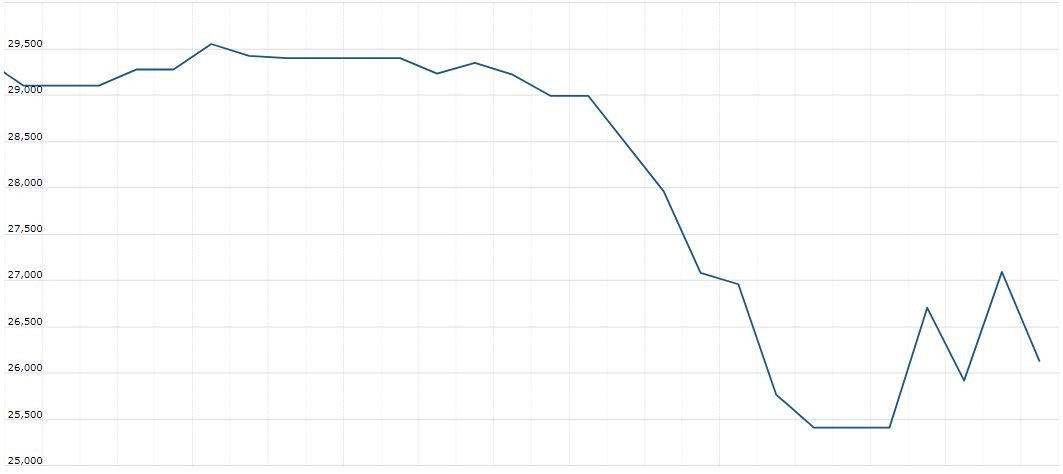 Other leading market index closes included the small-cap Russell 2000 Index closed at 1,478.82  with a loss of –3.42% percent or –52.37 point; the S&P 600 Small-Cap Index closed at 883.67  with a loss of –3.58% percent or -32.80 point; the S&P 400 Mid-Cap Index closed at 1,830.62  with a loss of –3.63% percent or -69.04 point; the S&P 100 Index closed at 1,356.10  with a loss of –3.32%percent or -46.62 point; the Russell 3000 Index closed at 1,766.37  with a loss of –3.38% percent or –61.76  point; the Russell 1000 Index closed at 1,671.40  with a loss of –3.38% or -58.39 point.