U.S. stock  higher in pre-market trading for,March 24.The Nasdaq Futures is trading at 7,359.75 up with +5.37% percent or +375.25 point.The Dow Futures is trading at 19,427.50 up with +5.03% percent or +930.50 point. The S&P 500 Futures is trading at 2,333.62  up with +5.09% percent or +113.12 point.
In other parts of world, Japan's Nikkei 225 is trading at 18,092.35 up with +7.13% percent or +1,204.57 point. Hong Kong's Hang Seng is trading at 22,639.55 up with +4.35% percent or +943.42  point. China's Shanghai  Composite is trading at 2,722.44 up with +2.34% percent or +62.27 point. India's BSE Sensex is trading at 26,746.26 up with +2.94% percent or +765.02 point at 12:15 PM.Germany's DAX is trading at 9,299.31 UP with +6.39% percent or +558.16  point. France's CAC 40 is trading at 4,122.42 with +5.32% percent or +208.12 point. The Stoxx Europe 600 is trading at 294.86 UP with +5.15% percent or +14.38  point.
Tuesday's Factors and Events
Builders continue to bear the brunt of rising development and construction costs along with lack of skilled labor. These are affecting supply, which in turn, is disturbing the reasonable pricing of homes. In fact, there was a 9.8% year-over-year fall to 1.47 million in the number of previously-owned homes in the market this February.
Of late, a surge in home prices has been observed, which is eroding the benefits of low mortgage rates and thus affecting sales. The median existing house price rose 8% in February to $270,100 from the prior-year level.
Moreover, in comparison to the 3.6 months needed to deplete the supply of homes in last year, the latest data suggests that only 3.1 months will suffice at February's pace. Notably, a six-to-seven-month supply is considered a healthy balance between supply and demand.
Monday Activity
For the day The Nasdaq Composite is trading at 6,860.67 with a loss of –0.27% percent or –18.84 point.the Dow is trading at 18,591.93 with a loss of –3.04% percent or –582.05 point. The S&P 500 is trading at 2,237.40  with a loss of –2.93% percent or –67.52 point.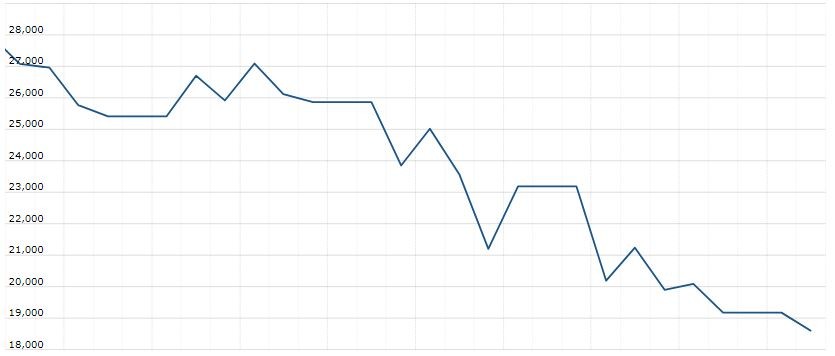 Other leading market index closes included the small-cap Russell 2000 Index closed at 1,002.42 with a loss of  –1.13% percent or -11.47 point; the S&P 600 Small-Cap Index closed at 595.67   with a loss of -1.48% percent or -8.92  point; the S&P 400 Mid-Cap Index closed at 1,218.55 with a loss of -3.19% percent or –40.18  point; the S&P 100 Index closed at 1,040.00  with a loss of –2.41% percent or -25.65  point; the Russell 3000 Index closed at 1,288.04  with a loss of –2.77% percent or -36.76 point; the Russell 1000 Index closed at 1,224.45 with a loss of –2.87% or -36.24 point.