U.S. stock  Mixed in pre-market trading for,April 23.The Nasdaq Futures is trading at 8,643.38 up with +0.06% percent or +5.38 point.The Dow Futures is trading at 23,323.00 with a loss of -0.14% percent or -33.00 point.The S&P 500 Futures is trading at 2,789.12 up with+0.02% percent or +0.62 point.
In other parts of world, Japan's Nikkei 225 is trading at 19,429.44 up with +1.52%percent or +291.49  point. Hong Kong's Hang Seng is trading at 24,015.41 with +0.51% percent or +122.05   point. China's Shanghai  Composite is trading at 2,838.50 with a loss of –0.19% percent or –5.48 point. India's BSE Sensex is trading at 31,763.29 up with +1.22% percent or  +383.74 point at 12:15 PM.Germany's DAX is trading at 10,396.87 with a loss of  –0.17% percent or –18.16 point. France's CAC 40 is trading at 4,427.08 up with +0.35% percent or +15.28 point. The Stoxx Europe 600 is trading at 330.87 up with +0.22% percent or +0.74  point.
Thursday's Factors and Events
Stocks are coming off back-to-back weekly gains for the first time since the coronavirus took hold. It's going to take a lot to push it to three, especially with weekly jobless claims scheduled for tomorrow.
The past four weeks have seen 22 million workers file for unemployment. It will definitely be a high number once again, but the market may have a sigh of relief if it tapers off a bit.
On the other hand, Thursday might also see the House approve the $484 billion relief package that passed the Senate earlier this week. President Trump is also on board the deal, which is designed to help small businesses and hospitals.
Wednesday Activity
For the day The Nasdaq Composite is trading at 8,495.38 up with 2.81% percent or +232.15 point.the Dow is trading at 23,475.82 up with +1.99% percent or +456.94  point. The S&P 500 is trading at 2,799.31 up with +2.29% percent or +62.75  point.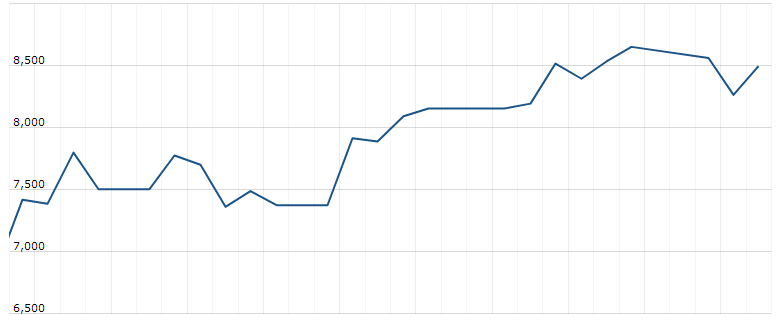 Other leading market index closes included the small-cap Russell 2000 Index closed at 1,201.52 up with +1.39% percent or 1+6.43 point; the S&P 600 Small-Cap Index closed at 698.74 up with +0.88% percent or +6.08 point; the S&P 400 Mid-Cap Index closed at 1,512.86 up with +1.49% percent or +22.28 point; the S&P 100 Index closed at 1,288.38 up with +2.30% percent or +28.91 point; the Russell 3000 Index closed at 1,610.54 up with +2.22% percent or +35.04  point; the Russell 1000 Index closed at 1,534.94 with +2.27%or +34.13 point.