U.S. stock  higher in pre-market trading for,April 27.The Nasdaq Futures is trading at 8,875.25 up with +1.21% percent or +106.25 point.The Dow Futures is trading at 23,871.00 up with +0.90% percent or +213.00 point.The S&P 500 Futures is trading at 2,854.88 up with +0.90% percent or +25.38 point.
In other parts of world, Japan's Nikkei 225 is trading at 19,783.22 up with +2.71% percent or +521.22  point. Hong Kong's Hang Seng is trading at 24,271.41 up with +1.85% percent or +440.08   point. China's Shanghai  Composite is trading at 2,815.44 up with +0.25% percent or +6.91 point. India's BSE Sensex is trading at 32,015.78  with 2.20% percent or +688.56 point at 12:15 PM.Germany's DAX is trading at 10,608.66 up with +2.64% percent or +270.94 point. France's CAC 40 is trading at 4,481.61 up with +2.01% percent or  +88.30 point. The Stoxx Europe 600 is trading at 335.34 with +1.74% percent or +5.75 point.
Monday's Factors and Events
The portfolio is finally 'full' at 15 names with today's addition of Hain Celestial Group (HAIN), the natural and organic foods company. Rising earnings estimates for this quarter, next quarter, this year and next year have made this stock a Zacks Rank #1 (Strong Buy). It has also beaten the Zacks Consensus Estimate in three of the past four quarters. Read the full write-up for a lot more on HAIN. By the way, a maximum-sized portfolio doesn't mean that Brian will be sitting on his hands. He'll just have to delete positions to make room for new additions. Therefore, get ready for more action next week
Friday Activity
For the day The Nasdaq Composite is trading at 8,634.52 up with +1.65% percent or +139.77 point.the Dow is trading at 23,775.27 up with +1.11% percent or +260.01  point. The S&P 500 is trading at 2,836.74 up with +1.39% percent or +38.94 point.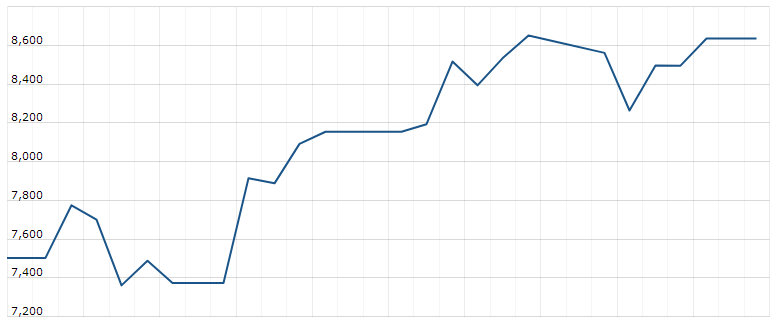 Other leading market index closes included the small-cap Russell 2000 Index closed at 1,233.05 up with 1.56% percent or +18.99 point; the S&P 600 Small-Cap Index closed at 715.14 up with +1.08% percent or +7.65 point; the S&P 400 Mid-Cap Index closed at 1,550.37 up with +1.40% percent or +21.36 point; the S&P 100 Index closed at 1,306.32 up with +1.37% percent or +17.68 point; the Russell 3000 Index closed at 1,634.12 up with +1.41% percent or +22.66  point; the Russell 1000 Index closed at 1,556.37 up with 1.40% or +21.44 point.