U.S. stock  lower in pre-market trading for,May 01.The Nasdaq Futures is trading at 8,768.12 with a loss of -2.45% percent or -220.38 point.The Dow Futures is trading at 23,761.00 with a loss of -1.94% percent or -469.00 point.The S&P 500 Futures is trading at 2,841.75 with a loss of -2.09% percent or -60.75 point.
In other parts of world, Japan's Nikkei 225 is trading at 19,619.35 with a loss of –2.84% percent or –574.34  point. Hong Kong's Hang Seng is trading at 24,643.59 up with +0.28% percent or +67.63 point. China's Shanghai  Composite is trading at 2,860.08 up with +1.33% percent or +37.64  point. India's BSE Sensex is trading at 33,717.62 up with +3.05% percent or +997.46  point at 12:15 PM.Germany's DAX is trading at 10,861.64 with –2.22% percent or -246.10 point. France's CAC 40 is trading at 4,572.18 with a loss of –2.12% percent or –98.93 point. The Stoxx Europe 600 is trading at 338.10 with a loss of -2.58% percent or –8.96   point.
Friday's Factors and Events
Even a representative at FICO — the scoring model most lenders use to check applicants' creditworthiness — says that having a credit score in the top 2% of the U.S. population won't further benefit you, so there's no need to stress.
"The reality is that, from the standpoint of qualifying for credit, it doesn't matter whether you have a perfect 850 or a score just below that," Ethan Dornhelm, VP of FICO scores and predictive analytics, tells CNBC Select. "To lenders, a consumer with a score in the 800s is a sparkling applicant."
Thursday Activity
For the day The Nasdaq Composite is trading at 8,889.55  with a loss of -0.28% percent or -25.16 point. the Dow is trading at 24,345.72 with a loss of -1.17% percent or -288.14  point. The S&P 500 is trading at 2,912.43 with a loss of –0.92% percent or -27.08 point.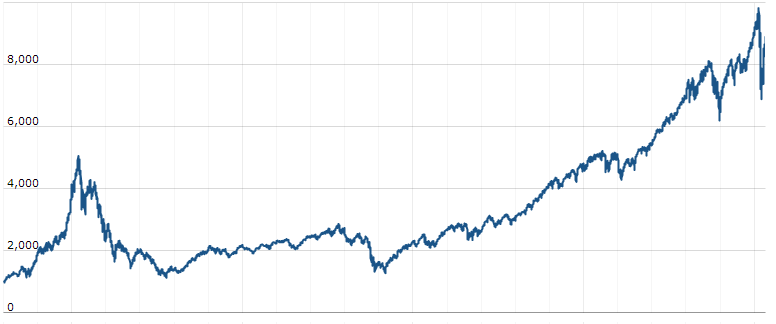 Other leading market index closes included the small-cap Russell 2000 Index closed at 1,310.66  with a loss of –3.68% percent or -50.10 point; the S&P 600 Small-Cap Index closed at 771.11 with a loss of -3.97% percent or -31.85 point; the S&P 400 Mid-Cap Index closed at 1,646.36 with a loss of –3.06% percent or -51.90 point; the S&P 100 Index closed at 1,338.02 with a loss of –0.35% percent or -4.65  point; the Russell 3000 Index closed at 1,684.95 with a loss of –1.19% percent or -20.37  point; the Russell 1000 Index closed at 1,601.82 with a loss of -1.04% or -16.78 point.