U.S. stock  lower in pre-market trading for,May 04.The Nasdaq Futures is trading at 8,768.12 with a loss of -2.45% percent or -220.38 point.The Dow Futures is trading at 23,761.00 with a loss of -1.94% percent or -469.00 point.The S&P 500 Futures is trading at 2,841.75 with a loss of -2.09% percent or -60.75 point.
In other parts of world, Japan's Nikkei 225 is trading at 19,619.35 with a loss of –2.84% percent or –574.34  point. Hong Kong's Hang Seng is trading at 24,643.59 up with +0.28% percent or +67.63 point. China's Shanghai  Composite is trading at 2,860.08 up with +1.33% percent or +37.64  point. India's BSE Sensex is trading at 33,717.62 up with +3.05% percent or +997.46  point at 12:15 PM.Germany's DAX is trading at 10,861.64 with –2.22% percent or -246.10 point. France's CAC 40 is trading at 4,572.18 with a loss of –2.12% percent or –98.93 point. The Stoxx Europe 600 is trading at 338.10 with a loss of -2.58% percent or –8.96   point.
Monday's Factors and Events
Stock futures fell early Monday morning as traders weighed the reopening of the economy along with brewing tensions between China and the U.S.
Dow Jones Industrial Average futures fell 230 points, or 0.9%, pointing to an opening decline of more than 220 points. S&P 500 futures lost 0.8%. Nasdaq-100 futures fell 0.6%.
Warren Buffett said his Berkshire Hathaway sold all of its airline holdings because of the coronavirus outbreak. While the legendary investor was optimistic over the long term about the outlook for America, the move shows his concern that the pandemic has changed certain industries permanently and could be a sign that other investors are too optimistic about the economy returning to normal quickly.
Friday Activity
For the day The Nasdaq Composite is trading at 8,889.55  with a loss of -0.28% percent or -25.16 point.the Dow is trading at 24,345.72 with a loss of -1.17% percent or -288.14  point. The S&P 500 is trading at 2,912.43 with a loss of –0.92% percent or -27.08 point.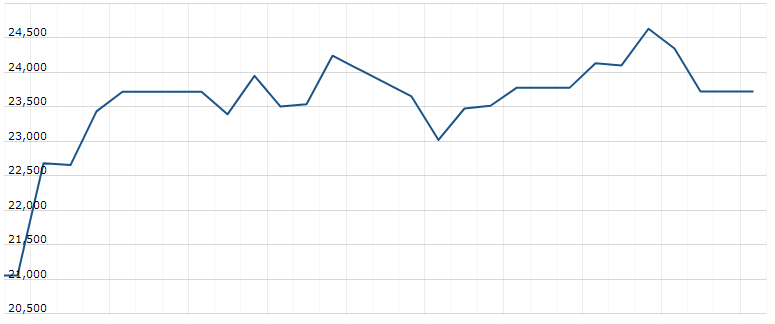 Other leading market index closes included the small-cap Russell 2000 Index closed at 1,260.48  with a loss of -3.83% percent or -50.18 point; the S&P 600 Small-Cap Index closed at 740.02 with a loss of -4.03% percent or -31.09 point; the S&P 400 Mid-Cap Index closed at 1,590.48 with a loss of –3.39% percent or -55.88 point; the S&P 100 Index closed at 1,302.16 with a loss of –2.68% percent or -35.86  point; the Russell 3000 Index closed at 1,635.59 with a loss of –2.93% percent or -49.36  point; the Russell 1000 Index closed at 1,555.78 with a loss of -2.87% or -46.04 point.