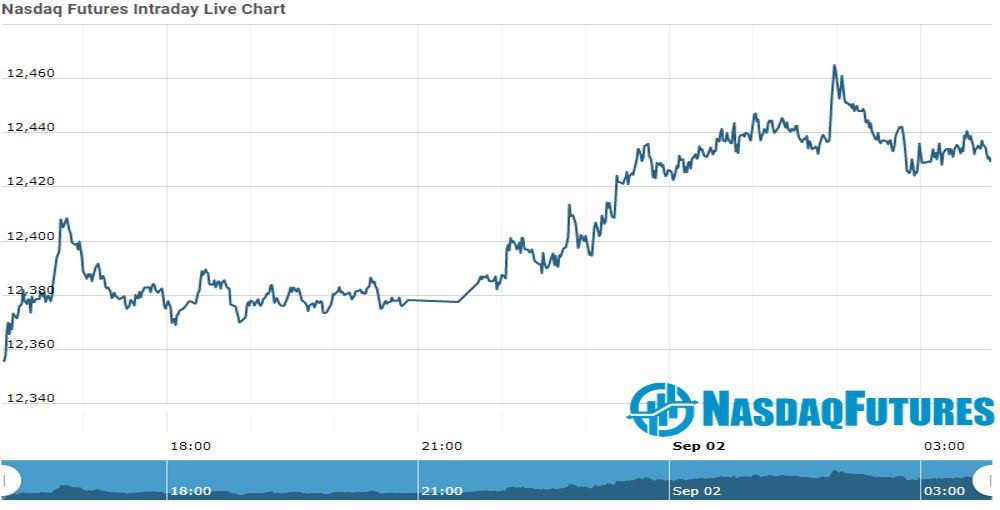 U.S. stock higher in pre-market trading for,Sept 02.The Nasdaq Futures is trading at 12,425.10 up with +0.91% percent or +112.62 point.The Dow Futures is trading at 28,820.00 up with +0.69% percent or +198.00 point.The S&P 500 Futures is trading at 3,550.12 up with +0.66% percent or +23.12 point.
In other parts of world, Japan's Nikkei 225 is trading at at 23,247.15 up with +0.47% percent or +109.08 point. Hong Kong's Hang Seng is trading at 25,099.44 with a loss of –0.34% percent or –85.41 point. China's Shanghai  Composite is trading at 3,405.39 with a loss of –0.15% percent or ?5.22  point. India's BSE Sensex is trading at 38,832.17 with a loss of –0.18% percent or –68.63 point at 12:15 PM.Germany's DAX is trading at 13,266.06 UP with +2.25% percent or +291.81 point. France's CAC 40 is trading at 5,048.67 up with +2.24% percent or +110.57 point. The Stoxx Europe 600 is trading at 372.39 up with +1.96% percent or  +7.16 point.
Wednesday's Factors and Events
Automatically saving a percentage of your salary can be one of the easiest ways to fund your retirement.
But figuring out how much your contributions will equal in the future can be confusing. If your plan is to get to $1 million, starting younger will go a long way toward keeping the process manageable.
As a rule of thumb, most financial advisors suggest you save 10% to 15% of your annual salary. Saving less is likely to leave you with regrets, while going too much higher than that can put a strain on your budget.
Personal finance website NerdWallet crunched the numbers, and we can tell you exactly how much of your $50,000 you'll need to tuck away to get there.
Just a few things to remember: These numbers assume you have no money in your retirement plan, that you will get a 6% return on your investments and that you will retire at age 65.
Tuesday Activity
For the day The Nasdaq Composite is trading at 11,939.67 up with +1.39% percent or  +164.21 point.the Dow is trading at 28,645.66 up with 0.76% percent or +215.61 point. The S&P 500 is trading at 3,526.65 up with +0.75% percent or +26.34  point. 
Other leading market index closes included the small-cap Russell 2000 Index closed at 1,578.58 with 1.07% percent or 16.71 point; the S&P 600 Small-Cap Index closed at 909.34 up with +1.17% percent or +10.55 point; the S&P 400 Mid-Cap Index closed at 1,941.03 up with +0.75%percent or +14.49 point; the S&P 100 Index closed at 1,653.67 up with +14.73 percent or  +0.90%  point; the Russell 3000 Index closed at 2,062.44 up with +0.85% percent or +17.43 point; the Russell 1000 Index closed at 1,962.50 up with +0.84% or  +16.34 point.