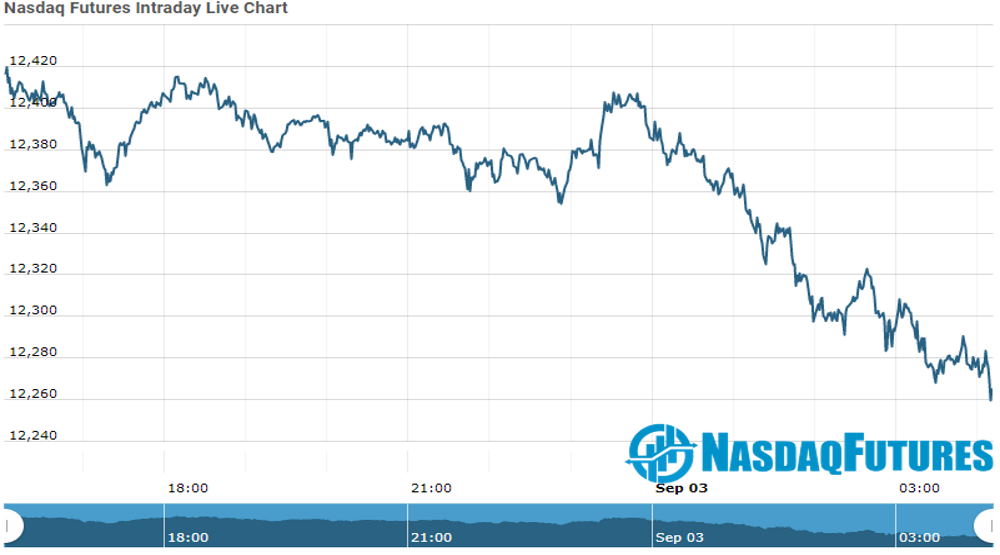 U.S. stock lower in pre-market trading for,Sept 03.The Nasdaq Futures is trading at 12,287.10 with a loss of -1.00% percent or -124.38 point.The Dow Futures is trading at 29,054.00 with a loss of -0.12% percent or -36.00 point.The S&P 500 Futures is trading at 3,566.12 with a loss of -0.37% percent or -13.08 point.
In other parts of world, Japan's Nikkei 225 is trading at at 23,465.53 up with +0.94% percent or +218.38  point. Hong Kong's Hang Seng is trading at 24,961.34 with a loss of –0.63% percent or –158.75 point. China's Shanghai  Composite is trading at 3,384.99 with a loss of –0.58% percent or –19.81  point. India's BSE Sensex is trading at 38,984.93 with a loss of –0.26% percent or –101.10 point at 12:15 PM.Germany's DAX is trading at 13,371.35 UP with 0.97% percent or +127.92 point. France's CAC 40 is trading at 5,107.98 up with +1.52% percent or +76.24 point. The Stoxx Europe 600 is trading at 373.94 up with +0.72% percent or  +2.66 point.
Thursday's Factors and Events
A "Minsky moment," named after economist Hyman Minsky, refers to a sudden market collapse following an unsustainable bull run, which in this case could be fueled by the "easy credit" environment created as a result of unprecedented fiscal and monetary stimulus measures.
Speaking to CNBC's "Squawk Box Europe" on Thursday, William cited a number of factors as potentially driving this crash, the first of which was the narrow nature of recent market gains, with much of the positive price action in the U.S. driven by tech giants.
Wednesday Activity
For the day The Nasdaq Composite is trading at 12,056.44 up with +0.98% percent or  +116.78 point.the Dow is trading at 29,100.50 up with +1.59% percent or  +454.84 point. The S&P 500 is trading at 3,580.84 up with +1.54% percent or +54.19 point. 
Other leading market index closes included the small-cap Russell 2000 Index closed at 1,592.29 up  with +1.07% percent or 13.71 point; the S&P 600 Small-Cap Index closed at 920.20 up with +1.19% percent or +10.86 point; the S&P 400 Mid-Cap Index closed at 1,966.45 up with +1.31% percent or +25.42 point; the S&P 100 Index closed at 1,675.67 up with +1.33% percent or  +22.00  point; the Russell 3000 Index closed at 2,089.83 up with 1.33% percent or +27.38 point; the Russell 1000 Index closed at 1,989.08 up with +1.35% or  +26.58 point.