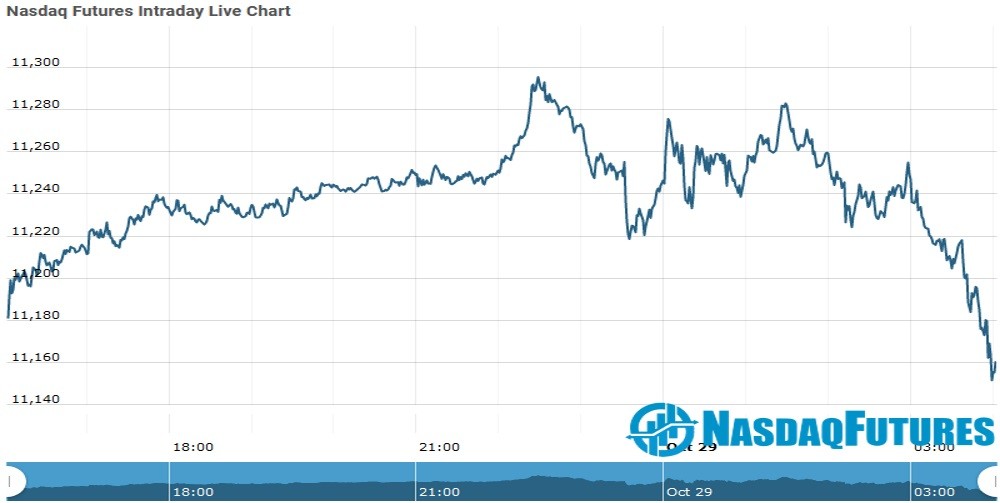 U.S. stock higher in pre-market trading for,Oct 29.The Nasdaq Futures is trading at 11,232.20 up with +0.89% percent or +99.50 point.The Dow Futures is trading at 26,525.00 up with +0.44% percent or +116.00 point.The S&P 500 Futures is trading at 3,283.62 up with +0.62% percent or +20.12 point.
In other parts of world, Japan's Nikkei 225 is trading at at 23,331.94 with a loss of –0.37% percent or  –86.57 point. Hong Kong's Hang Seng is trading at 24,613.67  with a loss of –0.39% percent or –95.13 point. China's Shanghai  Composite is trading at 3,281.78up with +0.38% percent or +12.54 point. India's BSE Sensex is trading at 39,963.55 up with +0.10% percent or +41.09point at 12:15 PM. The FTSE 100 closed at 5,728.99 with a loss of –1.09%percent or –63.02 point. France's CAC  40 closed at 4,730.66 with a loss of  –1.77% percent or -85.46 point.Germany's DAX closed at 12,063.57 with a loss of –0.93% percent or –113.61 point.
Thursday's Factors and Events
States in the northeast held the virus in check over the summer, but are seeing cases climb again. New York topped half a million confirmed cases while hospitalizations in New Jersey crossed 1,000 for the first time since July.
Fauci noted, however, that cities like New York and Philadelphia are more equipped to deal with the surge, whereas locations in the northwest and heartland are going to have a more difficult time with the pandemic.
Wednesday Activity
For the day The Nasdaq Composite is trading at 11,004.87 with a loss of –3.73% percent or  -426.48 point.the Dow is trading at 26,519.95 with a loss of –3.43% percent or  -943.24 point. The S&P 500 is trading at 3,271.03 with a loss of –3.53% percent or  -119.65 point.

Other leading market index closes included the small-cap Russell 2000 Index closed at 1,543.2 with -2.97% percent or -47.21 point; the S&P 600 Small-Cap Index closed at 874.84 with -3.00% percent or -27.03 point; the S&P 400 Mid-Cap Index closed at 1,895.57 with a loss of –2.63% percent or ?2.63% point; the S&P 100 Index closed at 1,509.64 up with  +3.79% percent or +59.50 point; the Russell 3000 Index closed at 1,928.01 with a loss of –3.40% percent or  ?67.94 point; the Russell 1000 Index closed at 1,829.66 with a loss of –3.43% or –65.00 point.