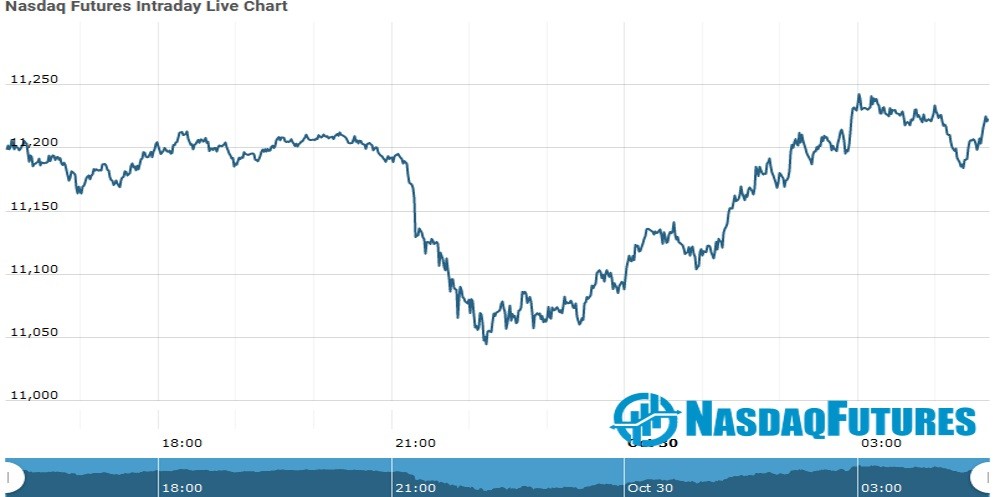 U.S. stock lower in pre-market trading for,Oct 30.The Nasdaq Futures is trading at 11,231.90 with -0.98% percent or -110.87 point.The Dow Futures is trading at 26,405.00 with a loss of -0.57% percent or -152.00 point. The S&P 500 Futures is trading at 3,284.12 with -0.55% percent or -18.18 point.
In other parts of world, Japan's Nikkei 225 is trading at at 22,977.13 with a loss of –1.52% percent or  –354.81 point. Hong Kong's Hang Seng is trading at 24,115.91  with a loss of –1.91% percent or –470.69 point. China's Shanghai  Composite is trading at 3,224.53 with a loss of –1.47% percent or –48.19 point. India's BSE Sensex is trading at 39,397.12 with a loss of –0.89% percent or  –352.73 point at 12:15 PM.The FTSE 100 closed at 5,581.75 with a loss of –0.019% percent or –1.05 point. France's CAC  40 closed at 4,569.67 with a loss of  –0.032% percent or -1.45 point.Germany's DAX closed at 11,598.07 up with +0.32% percent or +37.56 point.
Friday's Factors and Events
Global coronavirus cases rose by a single-day record of half a million on Thursday, and the European Union now plans to finance the transfer of Covid-19 patients across borders within the bloc in order to avoid overburdening of hospitals as the virus surges across the continent.
Euro zone GDP (gross domestic product) jumped by more than expected in the third quarter, with a quarterly climb of 12.7%, according to preliminary data from the EU statistics office on Friday. The partial rebound from the previous quarter's pandemic-induced plunge was driven in large part by France, Italy and Spain. Meanwhile inflation for the bloc came in October was -0.3%, unchanged from the previous month.
Thursday Activity
For the day The Nasdaq Composite is trading at 11,185.59 up with +1.64% percent or  +180.72 point.the Dow is trading at 26,659.11 up with +0.52% percent or  +139.16 point. The S&P 500 is trading at 3,310.11 up with +1.19% percent or  +39.08 point.

Other leading market index closes included the small-cap Russell 2000 Index closed at 1,561.58 up with +1.19% percent or +18.30 point; the S&P 600 Small-Cap Index closed at 888.66 up with +1.58% percent or +13.82 point; the S&P 400 Mid-Cap Index closed at 1,915.44 up with +1.05% percent or +19.87 point; the S&P 100 Index closed at 1,530.28 up with  +1.37% percent or +20.64 point; the Russell 3000 Index closed at 1,950.13 up with +1.15% percent or  +22.12 point; the Russell 1000 Index closed at 1,850.61 up with +1.14% or +20.95 point.