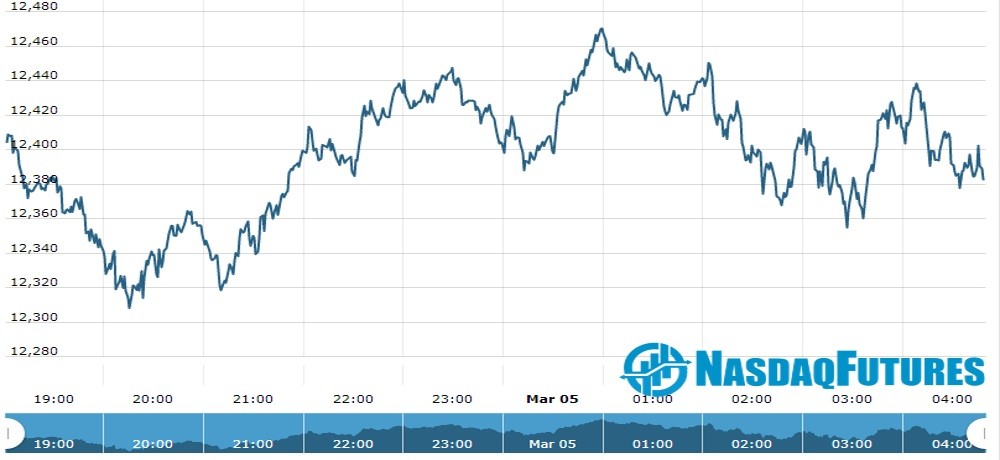 U.S. stock lower in pre-market trading for,March 05.The Nasdaq Futures is trading at 12,415.20 with a loss of -0.32% percent or -39.75 point.The Dow Futures is trading at 30,801.00  with a loss of -0.25% percent or -77.00 point.The S&P 500 Futures is trading at 3,754.62  with a loss of -0.29% percent or -10.88 point.
In other parts of world, Japan's Nikkei 225 is trading at at 28,764.27  with a loss of -0.57% percent or -165.84 point. Hong Kong's Hang Seng is trading at 29,321.91 up with +0.29%percent or +85.12 point. China's Shanghai  Composite is trading at 3,520.88  up with +0.50% percent or +17.39 point. India's BSE Sensex is trading at 50,744.79 with a loss of  -0.20% percent or -101.29 point at 12:15 PM.For the day the FTSE 100 closed at 6,650.88 with a loss of -0.37% percent or  -24.59 point. France's CAC  40 closed at 5,830.65 up with +0.010% percent or +0.59 point.Germany's DAX closed at 14,056.34  with a loss of -0.17%percent or -23.69  point.
Tuesday's Factors and Events
The large-scale issuance of U.S. Treasurys, and the rapid expansion of the Federal Reserve (balance sheet), have increased the spillover effect of U.S. macro policies," former finance minister Lou Jiwei said in an article published in the latest issue of the government-affiliated journal "Public Finance Research." That's according to a CNBC translation of the Chinese text.
Lou said the effects from major countries' policies will hit emerging countries economically and financially. "We are facing major changes not seen for a century,"
Thursday Activity
For the day The Nasdaq Composite is trading at 13,192.35 up with +0.56% percent or  +72.92 point.the Dow is trading at 30,932.37 with a loss of –1.50% percent or  –469.64 point. The S&P 500 is trading at 3,811.15 with a loss of –0.48% percent or  –18.19 point. 
Other leading market index closes included the small-cap Russell 2000 Index closed  at 2,146.92  with a loss of -2.76% percent or -60.87 point; the S&P 600 Small-Cap Index closed at 1,272.27 with a loss of –1.94% percent or  ?25.20 point; the S&P 400 Mid-Cap Index closed at 2,453.30 with a loss of –2.17% percent or ?54.54 point; the S&P 100 Index closed at 1,713.77 with a loss of -1.14% percent or  19.82 point; the Russell 3000 Index closed at 2,268.02 with a loss of – 1.59% percent or ?36.67 point; the Russell 1000 Index closed at 2,127.84 with a loss of –1.50% or ?32.46 point