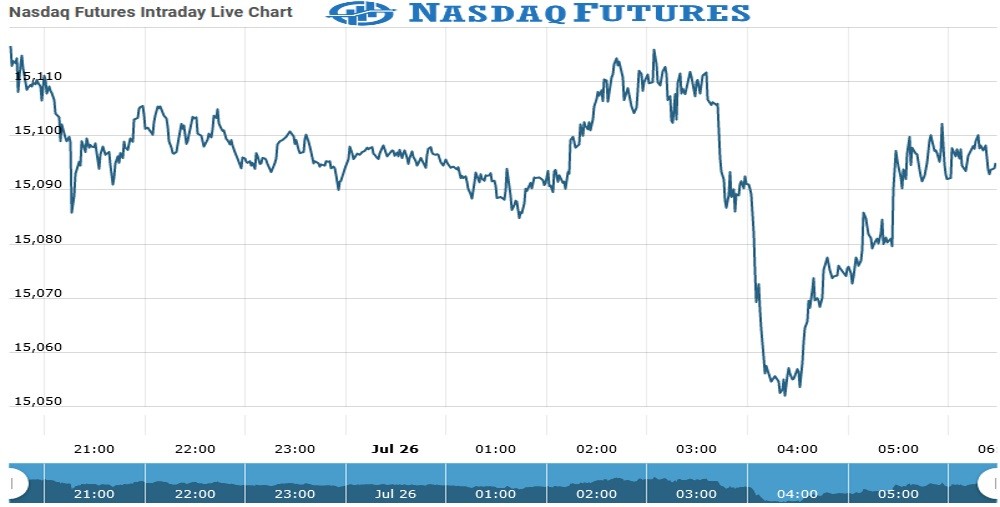 NASDAQ Futures Update : 26 July 2021
U.S. stock lower in pre-market trading for July 26.The Nasdaq Futures is trading at 15,078.90 with a loss of -0.17% percent or -26.00 point.The Dow Futures is trading at 34,853.70 with a loss of -0.59% percent or -207.90 point.The S&P 500 Futures is trading at 4,394.20 with a loss of -0.40% percent or -17.60 point.
In other parts of world, Japan's Nikkei 225 is trading at 27,807.30 up with +0.94% percent or +259.30 point. Hong Kong's Hang Seng is trading at 26,359.06 with a loss of –1.06% percent or -292.84 point. China's Shanghai Composite is trading at 3,461.09 with a loss of –2.57% percent or –91.27 point. India's BSE Sensex is trading at 52,954.03 witt a loss of –0.041% percent or -21.77 point at 12:15 PM.For the day the FTSE 100 closed at 7,027.58 up with +0.85% percent or +59.28 point. France's CAC 40 closed at 6,568.82 up with +1.35% percent or +87.23 point.Germany's DAX closed at 15,669.29 up with +1.00% percent or +154.75 point.
Monday's Factors and Events
Tensions between the U.S. and China have escalated in the last several years. Former U.S. President Donald Trump used tariffs and sanctions in an attempt to address longstanding criticism against China, such as unequal market access, lack of intellectual property protection and forcing businesses to transfer technology in order to operate in the country.
Friday Activity
For the day The Nasdaq Composite is trading at 14,684.60 up with +0.36% percent or +52.64 point.the Dow is trading at 34,823.35 up with +0.073% percent or +25.35 point. The S&P 500 is trading at 4,367.48 up with +0.20% percent or +8.79 point.
Other leading market index closes included the small-cap Russell 2000 Index closed at 2,209.65 up with +0.46% percent or +10.17 point. the S&P 600 Small-Cap Index closed at 1,318.56 up with +0.72% percent or +9.40 point. the S&P 400 Mid-Cap Index closed at 2,672.74 up with +0.87% percent or +23.11 point. the S&P 100 Index closed at 2,031.92 up with +1.03% percent or +20.77 point.the Russell 3000 Index closed at 2,620.62 up with +0.97% percent or +25.30 point. the Russell 1000 Index closed at 2,479.32 up with +1.01% or +24.79 point.