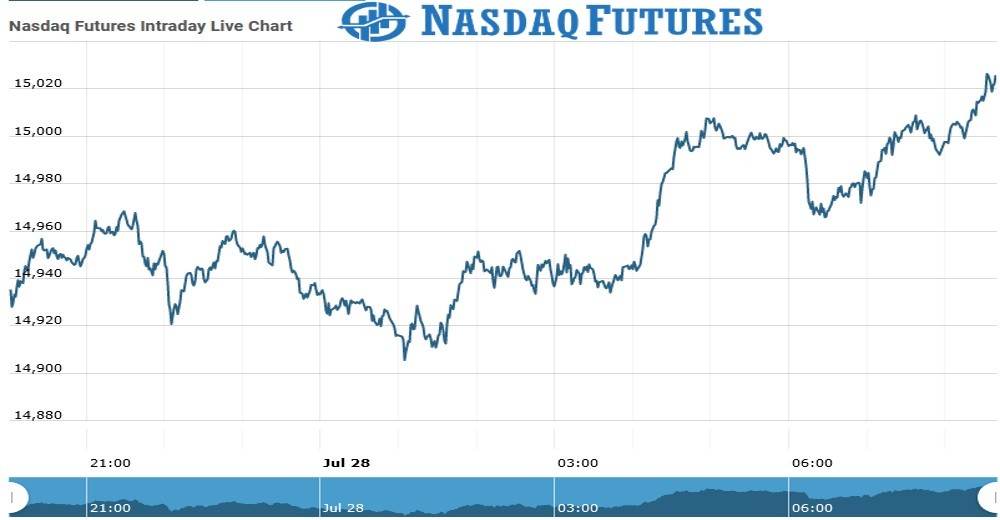 Nasdaq Futures Update : 28 July 2021
U.S. stock higher in pre-market trading for July 28.The Nasdaq Futures is trading at 15,003.70 with +0.31% percent or +46.70 point.The Dow Futures is trading at 35,068.70 up with +0.03% percent or +10.20 point.The S&P 500 Futures is trading at 4,407.40 up with +0.13% percent or +5.90 point.
In other parts of world, Japan's Nikkei 225 is trading at 27,965.98 up with +0.48% percent or +132.69 point. Hong Kong's Hang Seng is trading at 25,525.02  with a loss of –2.55% percent or –667.30 point. China's Shanghai Composite is trading at 3,415.15 with a loss of –1.51% percent or –52.29 point. India's BSE Sensex is trading at 52,880.71 up with +0.054% percent or +28.44 point at 12:15 PM.For the day the FTSE 100 closed at 7,025.43 with a loss of –0.031% percent or ?2.15 point. France's CAC 40 closed at 6,578.60 up with +0.15% percent or +9.78 point.Germany's DAX closed at 15,618.98  with a loss of –0.32% percent or –50.31 point.
Wednesday's Factors and Events
Shares in Asia-Pacific were mostly lower on Monday, with Hong Kong's Hang Seng index falling sharply along with mainland Chinese markets. Regulatory pressure and an acrimonious start to a summit between China and the U.S. pushed down tech and education stocks in the region.
Thursday Activity
For the day The Nasdaq Composite is trading at 14,660.58  with a loss of –1.21% percent or –180.14 point.the Dow is trading at 35,058.52 with a loss of –0.24% percent or –85.79 point. The S&P 500 is trading at 4,401.46 with a loss of –0.47% percent or –20.84 point.
Other leading market index closes included the small-cap Russell 2000 Index closed  at 2,191.83 up with -1.13% percent or -25.09 point. the S&P 600 Small-Cap Index closed at 1,318.72  with a loss of -0.85% percent or -11.27 point. the S&P 400 Mid-Cap Index closed at 2,660.58 with a loss of –0.57% percent or –15.35 point. the S&P 100 Index closed at 2,025.40 with a loss of –0.64% percent or –13.09 point.the Russell 3000 Index closed at 2,611.02  with a loss of –0.56% percent or -14.63 point. the Russell 1000 Index closed at 2,470.98  with a loss of –0.52% or –12.87 point.