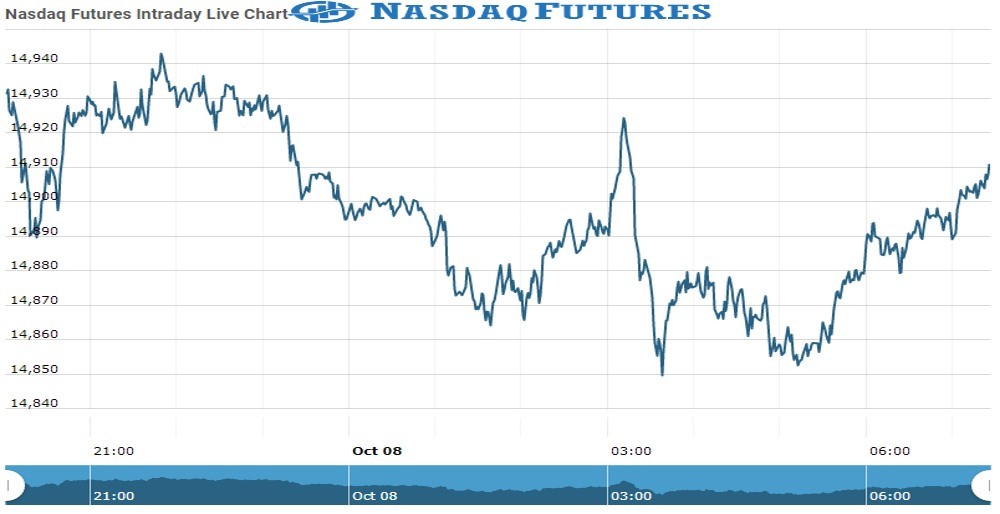 Nasdaq Futures Update : 08 Oct 2021
U.S. stock lower in pre-market trading for Oct 08.The Nasdaq Futures is trading at 14,861.50  with a loss of -0.24% percent or -35.60 point.The Dow Futures is trading at 34,719.20 with a loss of -0.10% percent or -35.70 point.The S&P 500 Futures is trading at 4,393.60 with a loss of –0.14% percent or -6.20 point.
In other parts of world, Japan's Nikkei 225 is trading at 28,048.94 up with +1.34% percent or +370.73   point. Hong Kong's Hang Seng is trading at 24,750.44 up with +0.20% percent or +0.20% point. China's Shanghai Composite is trading at 3,592.42 up with +0.68% percent or +24.26  point. India's BSE Sensex is trading at 59,900.97  up with +0.37% percent or +223.14 point at 12:15 PM.For the day the FTSE 100 closed at 7,060.00 up with +0.03% percent or +2.00  point. France's CAC 40 closed at 6,585.00 up with +1.44% percent or +93.50  point.Germany's DAX closed at 15,210.50  with +0.05%percent or +8.00 point.
FRIDAY'S FACTORS AND EVENTS
We believe that a special stimulus for Social Security recipients could help defray the higher costs some would face if next year's COLA bumps them into a higher tax bracket, causing higher tax rates on their income and surcharges to their Medicare Part B premiums," said the letter, signed by Richard "Rick" Delaney, chairman of The Senior Citizens League.
THURSDAY ACTIVITY
For the day The Nasdaq Composite is trading at 14,566.70  up with +0.82% percent or +118.12  point. the Dow is trading at 34,326.46 up with +1.43% percent or +482.54 point. The S&P 500 is trading at 4,357.04 up with +1.15%percent or +49.50  point. 
Other leading market index closes included the small-cap Russell 2000 Index closed at 2,250.09 up with +1.59% percent or +35.14 point. the S&P 600 Small-Cap Index closed at  1,366.69  with +1.57% percent or +21.09 point. the S&P 400 Mid-Cap Index closed at 2,705.26 up with +1.42% percent or +38.00  point. the S&P 100 Index closed at 2,021.69 up with +0.77% percent or +15.54 point.the Russell 3000 Index closed at 2,614.30 up with +0.94% percent or +24.45 point. the Russell 1000 Index closed at 2,469.82 up with +0.90% or +22.01 point.