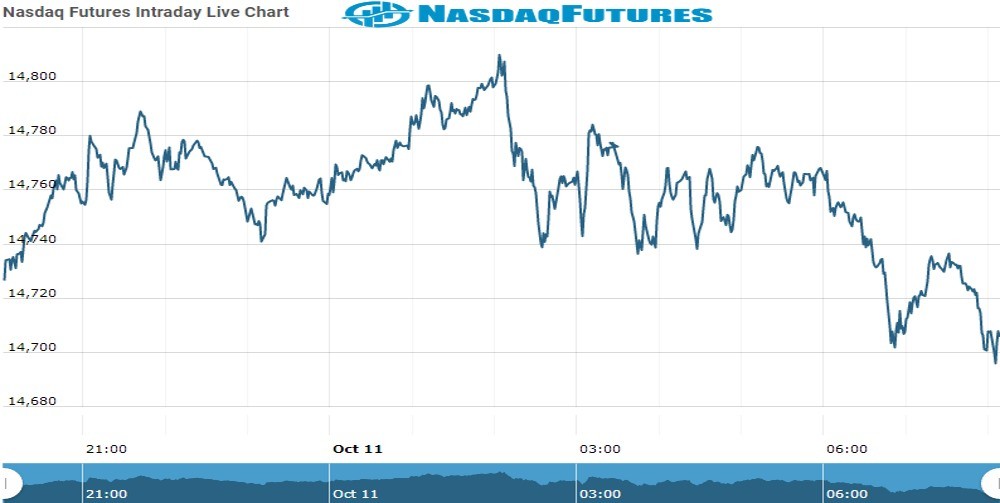 Nasdaq Futures Update : 11 Oct 2021
U.S. stock lower in pre-market trading for Oct 11. The Nasdaq Futures is trading at 14,720.70  with a loss of -0.68% percent or –100.00 point.The Dow Futures is trading at 34,633.40 with a loss of -0.32% percent or -112.80 point.The S&P 500 Futures is trading at 4,370.70 with a loss of –0.47% percent or -20.70 point.
In other parts of world, Japan's Nikkei 225 is trading at 28,498.20 up with +1.60% percent or +449.26 point. Hong Kong's Hang Seng is trading at 25,267.00 up with +1.73%percent or +429.15 point. China's Shanghai Composite is trading at 3,591.71 with a loss of –0.013% percent or -0.46  point. India's BSE Sensex is trading at 60,423.54  up with +0.61% percent or +364.48 point at 12:15 PM.For the day the FTSE 100 closed at 7,100.37 up with +0.068% percent or +4.82  point. France's CAC 40 closed at 6,541.50  with a loss of -0.27% percent or -17.50  point.Germany's DAX closed at 15,162.50  with a loss of -0.18% percent or -27.50 point.
MONDAY'S FACTORS AND EVENTS
Markets around the world whipsawed last week as investors monitored inflation expectations and U.S Treasury yields, which jumped to multi-month highs on Friday following the poor September jobs report from the U.S. Labor Department.
FRIDAY ACTIVITY
For the day The Nasdaq Composite is trading at 14,579.54  with a loss of –0.51% percent or -74.48  point.the Dow is trading at 34,746.25 with a loss of –0.025% percent or 8.69 point. The S&P 500 is trading at 4,391.34 with a loss of  –0.19% percent or -8.42  point.
Other leading market index closes included the small-cap Russell 2000 Index closed at 2,233.09 up with -0.76% percent or -17.00 point. the S&P 600 Small-Cap Index closed at  1,358.65 with a loss of –0.59% percent or 8.04 point. the S&P 400 Mid-Cap Index closed at 2,690.22 with a loss of –0.56% percent or -15.04  point. the S&P 100 Index closed at 2,019.05 with a loss of –0.13% percent or 2.64 point.the Russell 3000 Index closed at 2,607.10  with a loss of –0.28% percent or -7.21 point. the Russell 1000 Index closed at 2,463.85 with a loss of  –0.24%  or ?5.97 point.