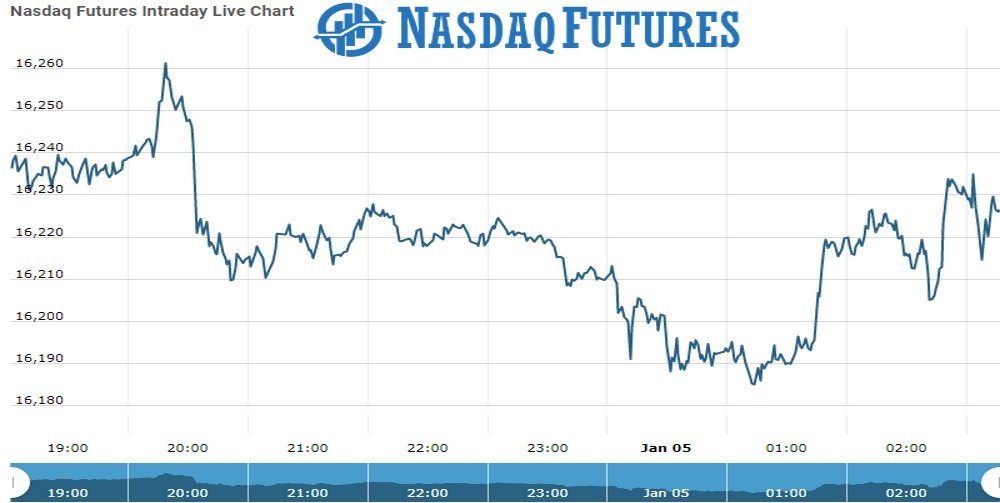 Nasdaq Futures Update : 05 Jan 2022
U.S. stock higher in pre-market trading for Jan 05.The Nasdaq Futures is trading at 16,223.10 with  a loss of -0.35% percent or -56.60 point.The Dow Futures is trading at 36,755.50 with a loss of -0.12% percent or -44.10 point.The S&P 500 Futures is  trading at 4,785.70 with a loss of -0.16% percent or -7.80 point.
In other parts of world, Japan's Nikkei 225 is trading at 29,300.84 with a loss of –0.0032% percent or ?0.95  point. Hong Kong's Hang Seng is trading at 23,092.83 with a loss of –0.85% percent or -197.01 point. China's Shanghai Composite is trading at 3,602.74 with a loss of –0.81% percent or -29.59   point. India's BSE Sensex is trading at 59,947.11 up with +0.15% percent or +91.18  point at 12:15 PM.For the day the FTSE 100 closed at 7,505.15 with 1.63% percent or +120.61 point. France's CAC 40 closed at 7,317.41 up with 1.39% percent or +100.19  point.Germany's DAX closed at 16,152.61  up with +0.82% percent or +131.88 point.
WEDNEDAY'S FACTORS AND EVENTS
It comes after stocks in the region kicked off 2022 with a bang on Monday, as most major regional indexes were higher on the first trading day of the new year.
There is still much uncertainty around the Covid-19 pandemic, however, with multiple countries around the world reimposing restrictions or lockdowns to stop the spread of the highly contagious omicron variant.
TUESDAY ACTIVITY
For the day The Nasdaq Composite is trading at 15,741.56 with a loss of –0.16% percent or –24.65 point.the Dow is trading at 36,398.08 with a loss of –0.25%  percent or ?90.55 point. The S&P 500 is trading at 4,778.73 with a loss of –0.30%percent or -14.33  point. 
Other leading market index closes included the small-cap Russell 2000 Index closed at 2,268.87 up with -0.16% percent or -3.68 point. the S&P 600 Small-Cap Index closed at 1,426.13 up with +0.65% percent or +9.27 point. the S&P 400 Mid-Cap Index closed at 2,865.54 up with +0.51% percent or +14.49 point. the S&P 100 Index closed at 2,212.68 with a loss of –0.30% percent or  ?6.76 point.the Russell 3000 Index closed at 2,800.41 up with +0.44% percent or +12.27  point. the Russell 1000 Index closed at 2,656.49 up with +0.40% or +10.58   point.